WHS Class of 2020 receives diplomas
Wakefield Republican - Sean A.
Thursday, August 06, 2020
WHS Class of 2020 receives diplomas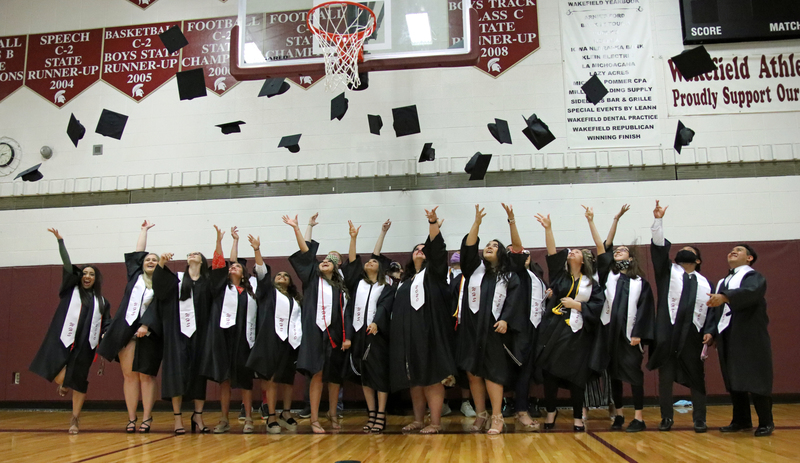 The Wakefield High School Class of 2020 received diplomas in the high school gym Sunday, August 2, fulfilling a promise from high school principal, Matt Farup.
"I made a promise to some students to not mail them their diploma, that somehow, someday I would hand it to them," Farup said. "I wanted to keep my promise to these kids even though I was their principal for only one portion of a year, these kids made an impact on me, they welcomed me to the community, they accepted me, I will always be thankful for this class - I wanted to do something special for them."
The class already had a parade earlier in May and a virtual graduation in June, but Farup had made a promise and intended to keep it no matter what the endeavor involved.
It involved many obstacles with the COVID-19 virus, social distancing, masks, etc., but Farup, much like this class persevered and the ceremony went off without a hitch, so to speak.
"We received many positive comments regarding the ceremony, many of the graduates and parents were thankful for the opportunity to watch their child walk across the stage and receive a diploma," Farup said. "The essence of graduation is walking into the gym to "Pomp and Circumstance" and having the Board President hand you your diploma - there were a lot of smiles and tears of happiness."
The ceremony did begin with the graduates walking in to "Pomp and Circumstance", but what has become normalcy to these graduates, the song was a recording and not played as usual by the Wakefield High School Band.
The "National Anthem" was also played by recording, the superintendent, Dr. Mike Moody presented the welcome to family and friends of the graduates.
Couselor, Lori Harding announced the honor students before Farup and Board of Education president, Bree Brown presented the diplomas.
"We were thankful for the health department's guidance and allowing the graduates to not wear a mask while getting their diploma and while we took a group picture, "Farup said. "Masks were not required by the attendees but almost everyone wore a face covering. Everyone in attendance was very gracious and cooperative in abiding by recommendations, we had no issues."
Farup then made the 'announcement of graduation'.
Seth Nuernberger presented a closing to the ceremony and the graduates left the gym to "Pomp and Circumstance".
The Class Motto was "If we wait until we're ready, we'll be waiting the rest of our lives".
The Class Flower was a dahlia and the Class Color was lavender.
"I'd like to thank Sarah Ekberg from Lazy Acres Floral for doing such a great job of decorating, I know the graduates and their families were appreciative of how beautiful the gym looked," Farup said. "Thanks goes out to Roxy and Hayden Ekberg as well."
The program for the ceremony listed 31 graduates and a couple of honorary class members. Not all were able to attend.
The graduates were:
Nolasco Joaquin Antonio Tomas, Alicia Noemi Arriaza, Hunter James Borg, Allison Pearl Bruckner, Mindy Caitlin Demke, Aracely Esmeralda Dominguez, Evan Benjamin Donner, Jacob Thomas Dorcey, Robin Rafael Fernandez, Julieto Fregoso, Stacy Isabel Gallardo, Ethan Nicholas Haisch, Blake Ryan Heimann, Katherine Ibarra, David Jimon-Alonzo, Nolan James Litchfield, Cole Jean Lundahl, Joyce Elizabeth McGuire, Mackenzie Lynn Munsell, Seth Aaron Nuernberger, Gabriel Drake Peitz, Laura Elizabeth Ramirez, Dawson Samuelson, Logan James Slama, Divon Osiris Tinsley, Zephan E. Tinsley, Dennise Urbina, Garett Dale Vander Veen, Juanita Emeralda Velazquez Chavez, Emily Jean Walsh.