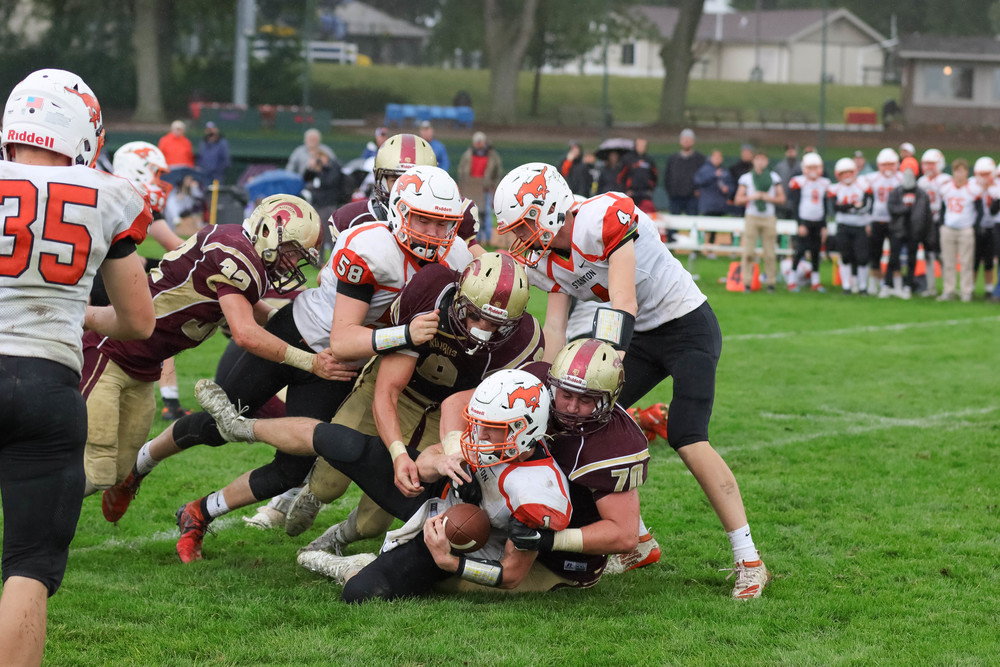 Wakefield runs over Stanton
Wakefield Republican - Sean A.
Thursday, September 17, 2020
very competitive, Wakefield and Stanton met on Eaton Field here in Wakefield Friday afternoon with the Trojans coming away with a decisive 50-14 win over the Mustangs.
"They really put one on us," Stanton coach, Dave Stoddard said. "We had some chances early, but Wakefield turned us away."
Stoddard was referring to the opening quarter when the Mustangs recovered a fumble deep in Wakefield territory and looked to be set up to move in for a score after the teams traded touchdowns earlier.
After the Mustangs recovered the fumble, the Trojans recovered a fumble on the next play and the
rest, as they say, is history.
It was a cool crisp fall afternoon, but Wakefield was ready from the opening snap.
"Conditions weren't obviously ideal, but I let the boys know beforehand that we weren't going to allow that to be an excuse," Trojan coach Mike Hassler said. "I thought Dillon Borg and Blake Brown handled the wet ball conditions really well with the exception of a handful of snaps which is to be expected on a rainy day. We are a run based team and the weather, I really felt, played into our hands."
Wakefield would go on to score three times in the second 12 minutes, two on the ground and one through the air.
"We responded with a "big game" mentality and I felt from the start took it to them," Hassler said. "We always want to establish how physical the game is going to be from the first snap and then make the other team try to match it - I felt like we did that."
"We try to dominate teams and feel like we outwork them before we play them," Wakefield senior lineman Rylan Weaver said. "I was worried coming into this year because we had lost so many good players on the line - we just kept working hard and staying fit - I'm having a ball with my teammates."
Wakefield turned back the Mustangs and took control of the game - in the second quarter.
"Our O-Line took another positive step forward - are there still a lot of things to fix? Without a doubt, but our effort and physicality have been great," Hassler said. "The technical things we can improve on every week, but like we always tell the boys, effort and physicality require zero talent and are a must for us to be successful week in and week out."
"We knew this would be a tough game," Wakefield coach Mike Hassler said. "I was happy with the way we responded and I was happy to put them away as soon as we could - they are a very good team."
Stoddard is far from giving up on his squad.
"This is one game," Stoddard said. "We'll get back to work and be just fine - I believe in our kids.
Weaver probably summed up the early season as well as anyone.
"We just want to play," Weaver said. "It's my senior year and I just want to play football - we've worked so hard to get to this season, I'm not going to stand for anything less than winning and being with my teammates."
After the first quarter, Wakefield got busy putting the game away.
Blake Brown would end up with a handful of touchdowns and over 170 yards on the ground. In addition, he would hit Couy Jonson from 21 yards out right before the half to put his team up 30-6.
"Justin (Erb) and Blake continue to do what we expected them to do coming into the year, they have become quite the two headed monster," Hassler said. "I'm just glad they are in my backfield and I don't have to put together a defensive game plan to stop them. They have two very different running styles that compliment each other and that creates such a stress on the opponents defense. To stop one you usually have to compromise your defense and that opens you up to getting hurt by the other."
"That score was right at the end of the half," Stoddard said. "That was a back-breaker - but we were still in it - they just kept us from getting anything going in the second half."
Erb finished the night with 123 yards on the ground and a touchdown of his own.
The Trojans outran the Mustangs 300-184.
Defensively, Erb tied his own school record with 21 total tackles, 16 solo stops, a pass break up, a tackle for loss and a fumble recovery.
"I was proud of the way Rylan Weaver, Couy Johnson, Gio Salcedo, Gabe Lamprecht, and Logan Bokemper performed up front," Hassler said. "We threw a lot of different defensive fronts at Stanton to keep them off balance and they boys had to get mental the entire week to know their jobs and alignments in each front. That was a lot to ask of them and I felt like they executed the defensive game plan extremely well. Because of their effort in the trenches they really opened up Justin Erb to roam free behind them, which resulted in Justin breaking his own school record for solo tackles in a game with 16. My hats off to all those boys, they should all be proud of that record."
Weaver finished with 14 total stops, Bokemper recorded 11 and an interception. Lamprecht had 13 tackles.
Wakefield will move on against another playoff-caliber team when they travel to Memorial Stadium in Norfolk to take on the undefeated Norfolk Lutheran High Northeast Eagles on Saturday, September 19.
" This game will be the next round of the 'Play-offs' for us," Hassler said "They (LHNE) are undefeated and state ranked and we've had their number the last two years. I expect a championship effort from them when we step onto the field next Saturday. They are very well coached and are always loaded with athletes, they without a doubt will be the best team we've seen this year. We still have a lot of areas to improve in and preparation this week will have to be dialed up another notch. We'll be ready, these are the games we look forward to playing."
S 6 0 0 8 - 14
W 6 22 14 8 - 50
SCORING SUMMARY
FIRST QUARTER
W: Blake Brown 1 run, run failed, 6:38.
S: Jason Claussen 5 run, run failed, 1:36.
SECOND QUARTER
W: Brown 54 run, Logan Bokemper run, 10:59.
W: Brown 15 run, pass failed, 8:10.
W: Couy Johnson 21 pass from Brown, Justine Erb run, :00.
THIRD QUARTER
W: Brown 3 run, pass failed, 6:58.
W: Brown 31 run, pass to Rylan Weaver from Brown, 3:31.
FOURTH QUARTER
W: Erb 2 run, Erb run, 6:03.
S: Damien Erickson 1 run, Brayan Acuna run, 1:22.