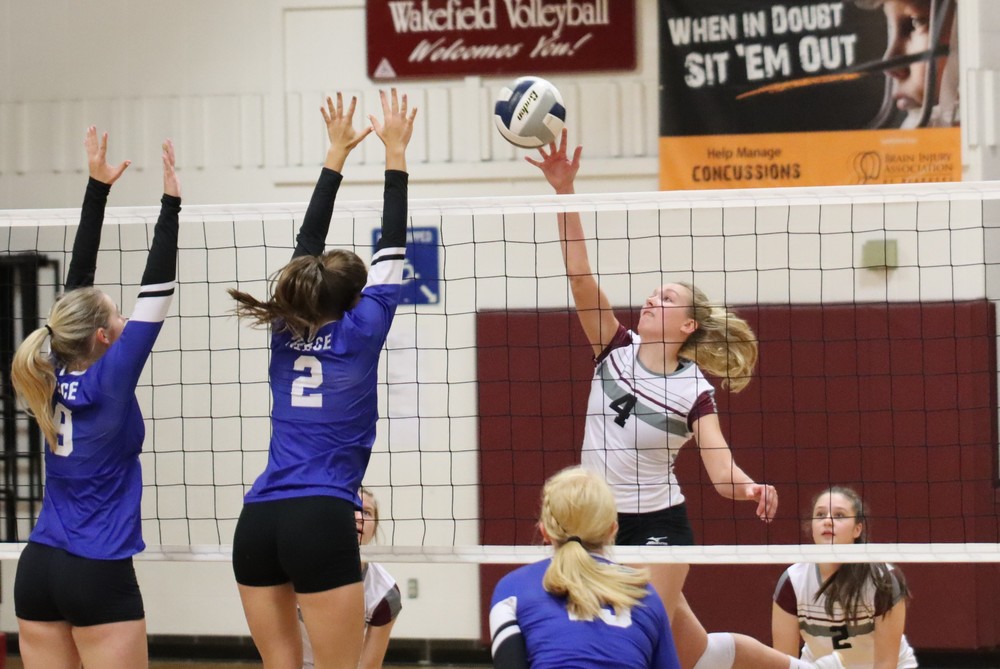 Lady Trojans sweep triangular, host tournament
Wakefield Republican - Sean A.
Thursday, September 17, 2020
The Wakefield Lady Trojans had a successful week two, beginning with a sweep in a triangular at Madison on September 8 and hosting their own tournament on September 10 and September 12.
In the Wakefield Invitational, the Lady Trojans fell to Hartington Cedar Catholic 25-11 and 25-16 in the best-of-three match then lost to Bancroft-Rosalie-Lyons-Decatur Northeast 25-21 and 25-20.
"The girls played well against two quick and scrappy teams," Wakefield coach Brittany Eisenmann said. "We had to throw players into spots to fill some missing positions this week and I am proud of how they were able to adjust and work together. We played BRLD for the second time this season and I am much happier with the way we performed. For a team that has had to make many adjustments, I thought we fought hard. Our unforced errors in each game was our biggest downfall; as a team we are focusing on becoming more consistent across the board."
On September 12 in the tournament, Wakefield failed to win a match, but kept moving forward according to Eisenmann.
"The Wakefield Invitational is a highly competitive atmosphere, all the teams involved are tough competitors. As a team, we love getting to play these types of games," Eisenmann said. "Although we didn't come away with any wins this weekend, we saw many glimpses into what our team is capable of accomplishing. Our girls are learning that high energy or what they call "vibing" is the key to success.
Wakefield lost to Pierce, 25-11 and 25-19 before giving Laurel-Concord-Coleridge all it wanted in a 25-20, 12-25 and 19-25 loss.
"Communication on the court is needed in order to be successful, and we are starting to figure that out. We are a very scrappy team that fights for every point," Eisenmann said. "We had slow starts to games where we would be down several points, but the girls were able to battle their way back by working hard and giving their all."
The Lady Trojans took Ponca to three sets in the final match after dropping a straight-set match to Norfolk Lutheran High Northeast.
Earlier in the week, Wakefield took care of business in Madison, defeating the Dragons 25-16 and 25-22 before defeating Spalding Academy 25-7 and 25-12.
"We went to Madison on Tuesday night," Eisenmann said. "The team started off with a strong lead and we were able to get younger girls some experience on the varsity court - these wins helped boost our confidence before heading into our upcoming tournament."
As the Lady Trojans prepare for an upcoming Parent's Night contest with Pender on September 17, Eisenmann and company continues to strive to get better and face whatever tomorrow brings.
"This season is so unpredictable with everything that is going on," Eisenmann said. "We are all thankful that we get to play the game of volleyball."
PONCA DEFEATS WAKEFIELD (7-25, 25-23, 17-25)
Hayden Ekberg 5 k, 1d; Aishah Valenzuela 12 d; Rachel Borg 8k, 6d; Katie Borg 11d; Abby Heimann 1a, 2k, 7s, 7d; Makenna Decker 1k, 1d; Jordan Metzeler 2a, 2k,7s,8d; Daveigh Munter-McAfee 2k, 1s,2d.
LHNE DEFEATS WAKEFIELD (18-25,11-25)
Ekberg 4k, 1b; Olivia Donner 1d; Valenzuela 9d; R. Borg 1k, 1a, 6d; K. Borg 1a, 2d; Heimann 3s, 10d; Decker 2k; Metzler 1a, 6s, 8d; Munter-McAfee 2k.
LCC DEFEATS WAKEFIELD (25-20, 12-25, 19-25)
Ekberg 3k, 2b; Valenzuela 23d; R. Borg 5k 8d; K. Borg 3a, 9d; Heimann 1a, 5s, 12d; Decker 3k, 4d; Metzler 1a, 7s, 2b, 6d; Munter-McAfee 2k, 1b, 1d.
PIERCE DEFEATS WAKEFIELD (11-25,19-25)
Ekberg 1a, 5b, 1d; Valenzuela 4d; R. Borg 1k, 8d; K. Borg 1a 2d; Heimann 1a, 2s, 4b, 3d; Decker 1d; Metzler 1a, 3k, 3s; Munter-McAfee 2k, 1d.
WAKEFIELD DEFEATS MADISON (25-16, 25-22)
Ekberg 7k, 1b; Donner 2a; Valenzuela 10d; R. Borg 10k, 1a, 10d; K. Borg 2a, 1s, 11d; Heimann 1k, 16s, 10d; Mikenzie Arenas 2k, 2b; Metzler 3a, 5k, 5s, 1b, 1d; Munter-McAfee 1k, 1d.
WAKEFIELD DEFEATS SPALDING ACADEMY (25-7, 25-12)
Ekberg 1k, 1d; Donner 6a, 2d; Valenzuela 7d; R. Borg 9k, 4d ;K. Borg 4a, 4d; Heimann 4a, 2k, 8s, 1d; Decker 3s Jocelyn Weaver 3k, 2d; Arenas 2k, 1d; Metzler 1a, 1k,7a, 3d; Hunter-McAfee 1 k, 2d.