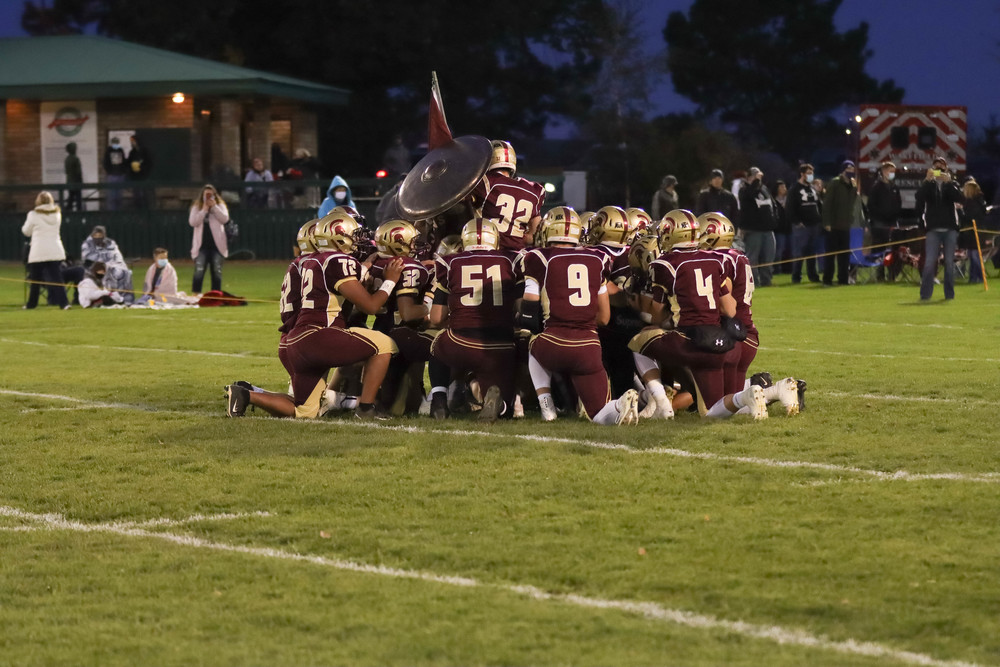 Trojans end season unblemished
Wakefield Republican - Sean A.
Thursday, October 22, 2020
A somewhat short-handed Wakefield Trojan football team remained unbeaten on the year with a 64-41 win over Hartington-Newcastle at Eaton Field in a game probably not as close as the final score indicated.
"We got a fast start behind our offensive line and put the game away early - Logan Bokemper had a huge game for us for the second straight week," Wakefield coach Mike Hassler said. "Logan really stepped up and filled the void that was created when our two top rushers got banged up. He has great vision, reads his blocks well, and when he gets in the open field he has another gear."
Bokemper finished with 165 yards in 12 carries after running over Laurel-Concord-Coleridge last week with 201 yards, replacing the injured Justin Erb.
"We also got nice contributions from Gabe Lamprecht and Cade Johnson who also had to step into expanded roles," Hassler said. "It honestly gave us a little bit of a preview of what we have coming back next year."
The Wildcats scored first on a long pass before the Trojans responded with the following 44 points. Wakefield's scoring explosion made it 44-8 with just over eight minutes left in the first half.
Bokemper opened the floodgates with a 44 yard scamper, a safety by the defense, a long run by Blake Brown and another 40-plus run by Bokemper highlighted the 44 points.
Another defensive score on a fumble return by Gabe Lamprecht then Cade Johnson got involved with a 48-yard run of his own and found Nick Arenas from 12 yards away to get to the 44-8 score.
"Again with two starters out defensively we definitely had to do a little shuffling," Hassler said. "We had some guys making their first starts and others playing a new position for the first time - all in all I thought we handled it fairly well, there were a few hiccups but that was to be expected.
"I was real happy with the work done up front by Rylan Weaver, Gio Salcedo, Nick Arenas, and Couy Johnson. They got consistent pressure the entire night and really helped us get out to that early lead."
Hartington-Newcastle would finally answer after the Johnson to Arenas aerial, but Bokemper needed just seven seconds to respond for the Trojans.
He took the ensuing kickoff, after the Wildcat score, 75 yards to the house.
The teams split touchdowns in the third frame and the Wildcats scored a couple of cosmetic touchdowns in the fourth, but the outcome was really never in doubt.
"This was a tough one on a lot of levels. It was our last game of the season, our last game for our seniors, and on top of that due to injury some of our seniors didn't play or were limited in action," Hassler said. "The hardest part of this season was seeing it come to an end. This was a great group of young men. They gave everything they had and were rewarded for it."
Hassler had some heavy praise for this year's senior class.
"To have 11 boys stay with a program for four years speaks loads about this group. Some contributed early on and others took four years of hard work to find their place and role on this team," Hassler said. "The wins, district titles, and records are nice, but it will be all the things these young men did behind the scenes that I will remember them for - they were a group that fought for each other on the field and they made my job a joy every day after school. The only disappointment I have is that it's all over."
More pictures from this game can be found on the Republicans Facebook page.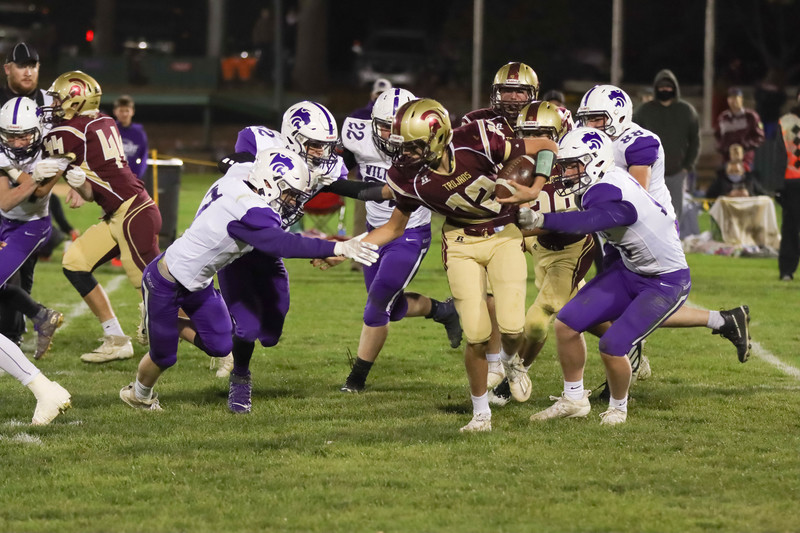 W 38 12 7 7 - 64
H-N 8 14 6 13 - 41
SCORING SUMMARY
FIRST QUARTER
H-N: Koby Heitman 41 pass from Riley Sudbeck, Carson Sudbeck pass from Lane Heimes, 10:20. 0-8.
W: Logan Bokemper 44 run, Bokemper run, 9:05. 8-8.
W: Riley Sudbeck sacked in end zone for safety, 7:36. 10-8.
W: Blake Brown 45 run, run failed, 7:20. 16-8.
W: Bokemper 46 run, Bokemper run, 5:39. 24-8.
W: Gabe Lamprecht 37 fumble return, Bokemper run, 3:50. 32-8.
W: Cade Johnson 48 run, pass failed, 1:31. 38-8.
SECOND QUARTER
W: Nick Arenas 12 pass from Johnson, pass failed, 8:30. 44-8.
H-N: K. Heitman 2 run, Aiden Gratzfeld kick, 3:55. 44-15.
W: Bokemper 75 kickoff return, run failed, 3:42. 50-15.
H-N: Jake Peitz 22 pass from R. Sudbeck, Gratzfeld kick, 1:58. 50-22.
THIRD QUARTER
H-N: Peitz 22 pass from R. Sudbeck, kick failed, 9:33. 50-28.
W: Lamprecht 6 run, Justin Erb kick, 7:06. 57-28.
FOURTH QUARTER
W: Johnson 1 run, Erb kick, 12:00. 64-28.
H-N: K. Heitman 4 run, pass failed, 7:49. 64-34.
H-N: R. Sudbeck 4 run, Gratzfeld kick, :30. 64-41.
Tackle Leaders: Nick Arenas (13 solo/3 assisted/4 sacks); Rylan Weaver (11 solo/4 assisted/2 sacks/2 blocked kicks); Couy Johnson (6 solo/7 assisted/Sack/Forced Fumble); Gabe Lamprecht (8 solo/2 assisted/Sack/Fumble Recovery for a TD)