Allen/Emerson-Hubbard butt heads
Wakefield Republican - Sean A.
Thursday, October 22, 2020
The Allen Eagles remained unbeaten on the regular season with a 53-6 win over Emerson-Hubbard last Friday afternoon.
The win propelled the Eagles to 6-0 and sent the Pirates to the sidelines 1-7.
Ironically, after the Eagles compete in the 2020 D2 Football Playoffs, the individuals on the two teams on gridiron will be a team together on the basketball court this winter when they become the Tri-County Northeast Wolfpack.
The Allen Eagles finished the 2020 season undefeated, at 6-0, with a 53-6 win at Emerson-Hubbard on Friday afternoon. The Eagles wrapped up a first-round home game to be held on Thursday, October 22, vs Johnson-Brock in Allen, game time is 6:00 p.m.
The Eagles had no problem moving the football, as they amassed 400 yards of total offense.
After racing out to a 22-0 lead in the first period, on a Kobe Kumm 8-yard run and a pair of passes of 34 and 12 yards to Reed Hingst, Emerson-Hubbard struck on their lone score of the day, as Brock Mackling hit Anthony Lawrence for a 63-yard score.
Emerson-Hubbard earned 79 yards on the day, and 63 came on one play. The stifling Eagle defense allowed only three first downs.
The Eagles held a 22-6 lead at the end of the first period and extended it to 37-6 by the intermission on an Anthony Isom 5 -yard run paired with a Kobe Kumm 37-yard run.
The Eagles added a team safety early in the period, and followed one play later after the Pirate free kick when Kobe Kumm hit Reed Hingst on a third touchdown pass of 34 yards.
Joe Grone capped out a JV-filled second half for both teams as he scampered in from six yards to leave the score at 53-6 at the end of the third period.
Defensively, Anthony Isom led tacklers with 11. Josh Olesen and Nate Oswald each drug down 8 Pirates.
Offensively, Anthony Isom toted the ball 20 times for 124 yards and a score, Kobe Kumm ran for 108 yards on 9 carries, and completed 5 of 7 passes for three touchdowns, all to Reed Hingst.
Mackling paced EH with 75 yards throwing the football for the lone score to Mason Hall, who finished 68 yards on two catches. No Pirate runners accounted for more than 10 yards on the ground in the contest.
Garrett Blanke recorded 15 tackles, Hall had 13, Zach Shanks and Cameron Ahlers each had 10 and Hunter Morgan had eight stops.
The win moves the Eagle season record to 6-0, and secured the district championship with a 4-0 mark in district play, as well as securing the first round home playoff game.
"Our community, school, parents, fans should be proud of the season the team has put together, considering how it began and the challenges they faced," Allen coach Dave Uldrich said. "Now, it is the time of the year where everything is on the line, and the coaches believe that our team will rise up, accept the challenges and compete at a very high level.
"Our seniors have been tremendously good leaders for the younger players, and that is why we are where we currently are. Congratulations on the season thus far team!"
More pictures of this game can be found on the Republicans Facebook page.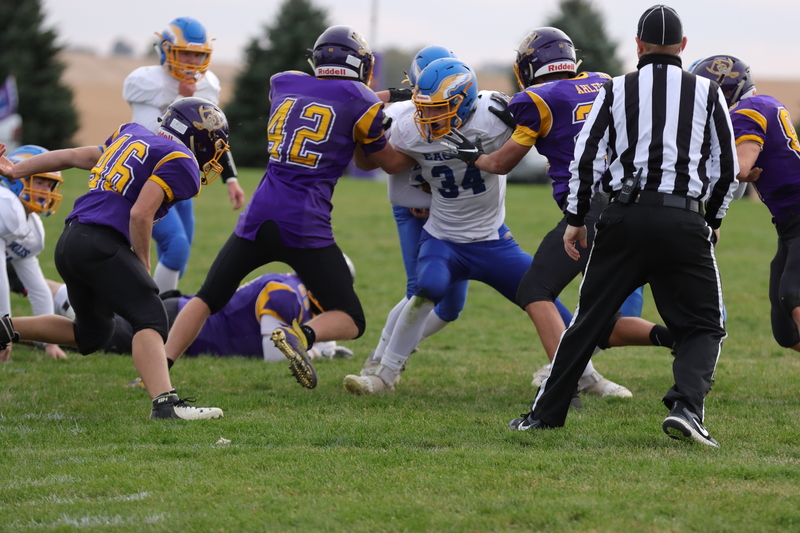 A 22 15 16 0 - 53
EH 0 6 0 0 - 6
FIRST QUARTER
A: Kobe Kumm 8 run, PAT failed, 8:46. 6-0.
A: Reed Hingst 34 pass from Kumm, Hingst pass from Kumm, 6:30. 14-0
A: Hingst 12 pass from Kumm, Anthony Isom run, 1:30. 22-0.
SECOND QUARTER
EH: Anthony Lawrence 63 pass from Brock Mackling, PAT failed, 11:13. 22-6.
A: Isom 5 run, Krommenkoek pass from Kumm, 7:01. 30-6.
A: Kumm 37 run, Tinajero kick, 2:01. 37-6.
THIRD QUARTER
A: Team Safety, 10:51. 39-6.
A: Hingst 34 pass from Kumm, Tinajero kick, 10:38. 46-6.
A: Joe Grone 6 run, Tinajero kick, :37. 53-6.