Mirella Ruvalcaba wins Dixon County Spelling Bee! The Dixon County Spelling Bee was held on Tuesday, January 24th at Allen Consolidated Schools in Dixon. Students from County schools vied for a chance to compete in the Regional Spelling Bee in Omaha in March. This year Wakefield Community Schools own Mirella Ruvalcaba won the first place trophy over Abrahm Krusemark of Ponca who took second and Kaylee Kloster from Ponca who was last year's winner that came in third.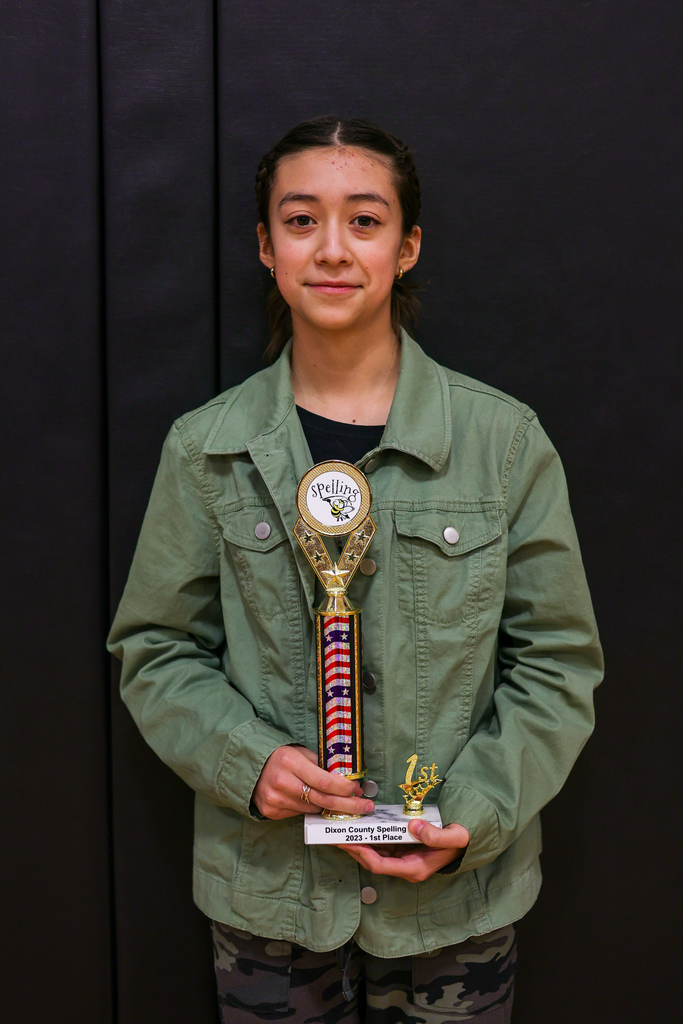 Local scout being honored with Eagle Scout award Jack Schlickbernd has earned the Boy Scouts of America's highest advancement award, the Eagle Scout Award. He passed his Board of Review on August 2, 2022. Schlickbernd will be recognized in a ceremony on Sunday, January 8, 2023. A member of Troop 174, Schlickbernd is one of only approximately six percent of all Scouts who attain the Eagle rank. He is the 150th scout from Wayne to earn the rank of Eagle. Each candidate must earn 21 merit badges and successfully complete a community service project to earn his Eagle. For his service project, Schlickbernd chose to install a POW/MIA Seat of Honor and other major league stadium seats at Eaton Baseball Field in Wakefield, Nebraska. Through scouting, Schlickbernd has gone to Florida National High Adventure Sea Base and became SCUBA certified while attending Camp Wilderness in Minnesota. He earned religious awards as both a Cub Scout and a Boy Scout. Schlickbernd is a member of Journey Christian Church and is active in football, Skills USA, track, and baseball at Wakefield Community Schools where he is a junior. He is the son of Mike and Sara Schlickbernd of Wayne.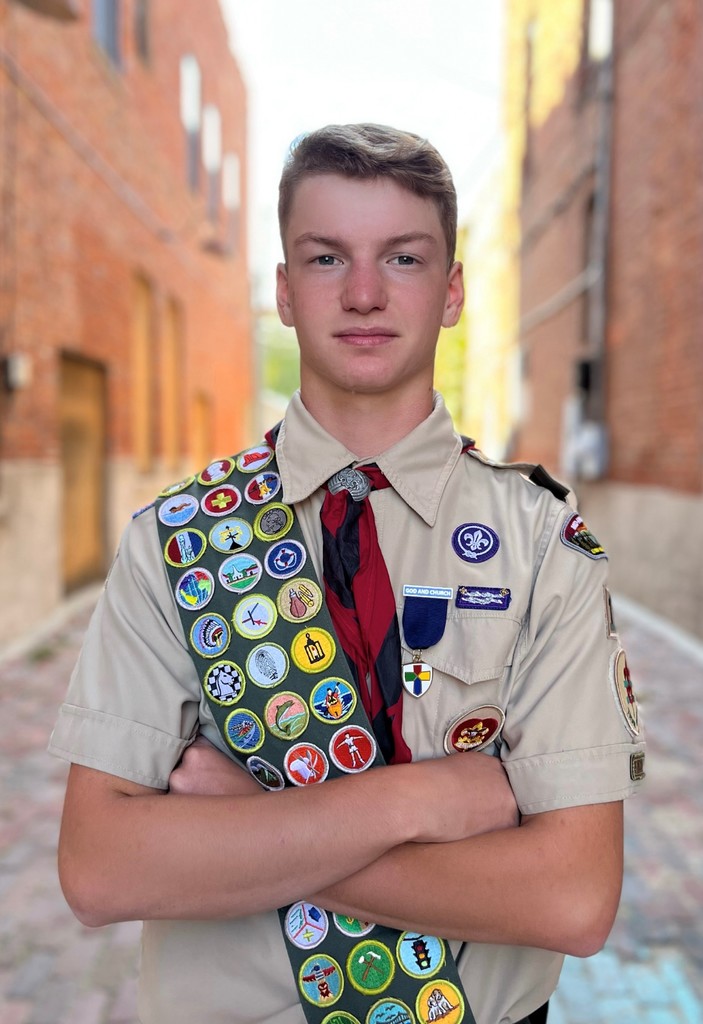 A special event, hosted by some local producers, will be held in Wakefield this weekend, Saturday, Jan. 7 – a special concert event honoring the local fire departments in Northeast Nebraska. The event will be held at the Wakefield Legion Hall, with doors opening at 6 p.m., and music starting at 7:30 p.m. There will be an admission charge at the door, but firefighters and spouses will get in free. All proceeds from the evening will be divided up and given to the local fire departments. A release from the event said that some local producers had joined together to host the event in recognition and appreciation for the service that local firefighters, and their families, have provided to the communities they serve. Music will be provided by Nashville, and local performer, Angie K. She has performed in Northeast Nebraska in 2021 and 2022. She has played at Wake"FIELD" Party in 2021 and 2022 and at the Dixon County Fair last year. Angie K. has a music video for the song "Country is as Country Does" recorded and filmed in northeast Nebraska in 2021. The video was filmed in the Newcastle, Allen, Wakefield, Wayne, and Pender area. For more information about Angie K. go to
www.officialangiek.com

Gabe Peitz earned NSIC Elite 18 Award for cross country (Sorry for the typo in the paper Gabe!) Gabe Peitz of Wayne State College was announced as the recipient of the Elite 18 Award at the conclusion of Saturday's Northern Sun Conference Men's Cross Country Championships held at the Wayne Country Club. The NSIC Elite 18 Award is presented to the student athlete with the highest cumulative grade point average participating at the finals site for each of the NSIC's 18 Championships and Peitz is the first Wayne State men's cross country runner to earn the award. Peitz, a junior from Wakefield, maintains a 4.00 grade point average majoring in pre-med and chemistry. This season, Peitz has competed in all six meets for the Wildcats this season. He has a season-best finish of 21st at the Wildcat Classic and recorded a personal best time of 27:37.8 in the 8K at the Defender Holiday Inn Express Classic at Dordt University on October 8, 2022. Peitz ran a time of 29:14.20 to finish 107th at Saturday's NSIC Cross Country Championships in Wayne. Peitz is also in his second year serving on the Student Athlete Advisory Committee at Wayne State College.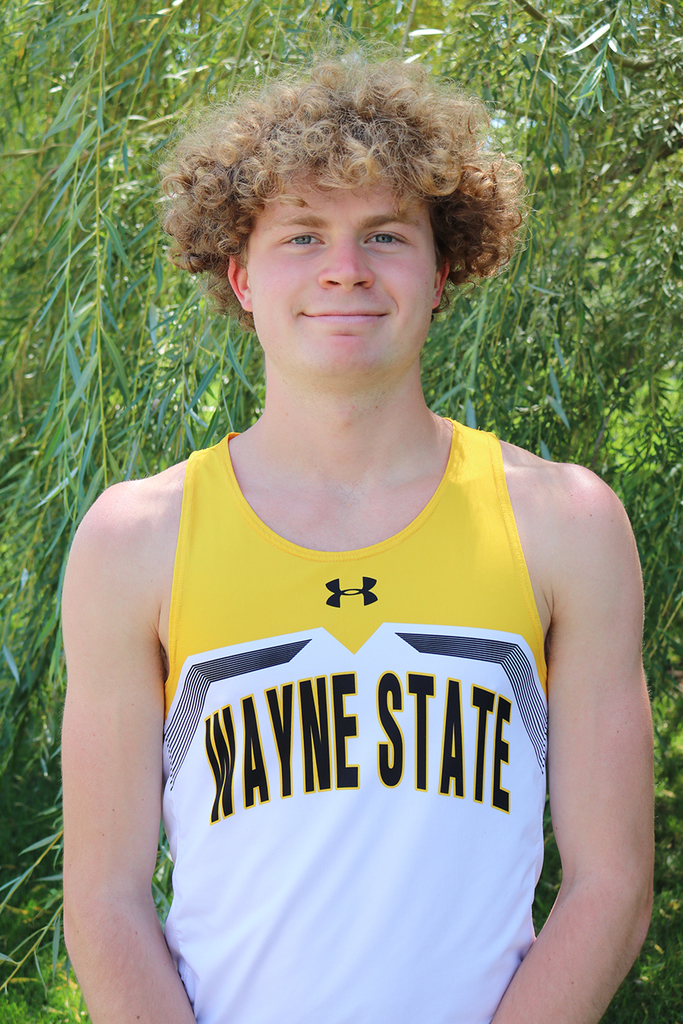 Tacos Valenzuela opens on Main Street! By: Roxy Ekberg Republican Staff Tacos Valenzuela opened on Monday, October 25th. Located at 225 Main Street, and the restaurant has food available to dine-in or take-out. "Everyone seems to love the authentic food so I decided to do this for the people so they can enjoy yummy food here in town," said owner Brenda Valenzuela. Hours are Tuesday through Thursday from 11 a.m. to 8 p.m. and serves breakfast only from 6-11 a.m. on the weekends. At the moment, the store is only able to accept cash and venmo. The restaurant started as a side hustle for Valenzuela. Tacos Valenzuela began by serving food at the Wakefield Markets and quickly expanded. She used the profits to help her mom receive dialysis treatment three times a week. "I am forever grateful for my supporters," said Valenzuela. Valenzuela's goals are to be successful and provide good food to the public. She continues to help her mom and involves her family in the business. "Always remember to support small businesses," said Venezuela.

Mikkie Mogus sings at Muskateers game Recently Wakefield Community Schools student Mikkie Mogus was given a chance to show off her singing talent at a Sioux City Muskateers ice hockey game. On Saturday, October 22nd prior to the game versus the Sioux Falls Stampede Mogus sang the national anthem before the large crowd at the Tyson Events Center. The game was also the Musketeers 14th annual 'Pink in the Rink', an event to raise awareness of breast cancer. In addition to the ice being colored pink the team also wore special pink jerseys that was auction off after the game. Mogus will be returning to event's center to sing multiple times in the near future on November 3rd, January 6th, February 5th, and March 5th.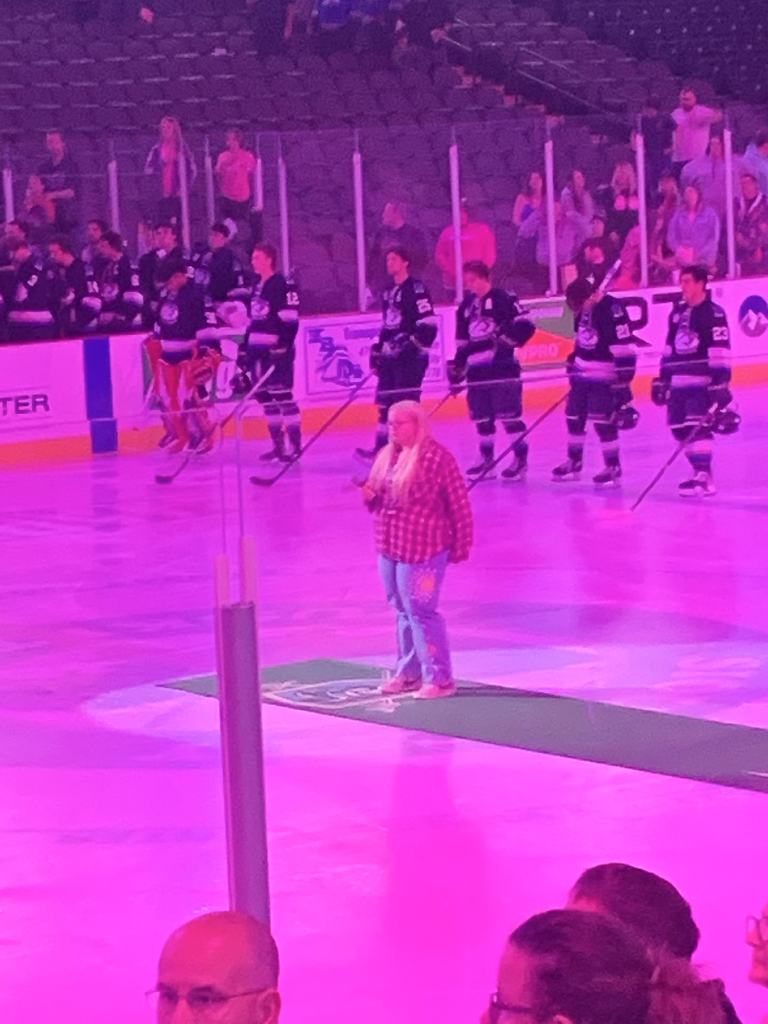 By Roxy Ekberg Republican Staff Wakefield Volunteer Fire Department responded to multiple fires across the area on Wednesday evening into Thursday morning. The first fire started on 854th Rd near Kevin Kai's farm and then spread five miles south and two miles east to the old Lloyd Hugelman farm. The fire was presumably started by a combine. Assistant Fire Chief, Kevin Wiltman, stated that the high rate of winds and significant lack of moisture helped the flames spread. Once the field was put out, the team noticed the fire had traveled to a nearby grove. Mutual aid was called in from neighboring fire departments with Winnebago, Pender, Emerson, Thurston, and Laurel coming out to help. Responders from Pender and Emerson were forced to leave and deal with their own fires, Thurston did as well but returned later. Additional support came from local businesses, neighbors, and farmers. Wakefield's Central Valley Ag along with Nutria Ag Solutions from Thurston and a private farmer aided by keeping the tankers full of water. Four farmers helped control the flames with their discs. "They were a significant help in reducing response time…we would have been there all night," said Wiltman, who was in charge at the scene. "When it came to putting out the grove, all the mutual aid was a huge help." Once they returned to town they were called back out first for a mutual aid call near Allen but were told it was quickly under control, then they headed to a large field fire near Laurel, then finally diverted back to a fire six miles south of Wakefield. The high wind caused the fire to travel 3 or 4 miles while potentially putting three houses at risk, however, the WVFD reported no structural damage after the fire was under control. One firefighter was taken to Providence Medical Center under suspicion of smoke inhalation, he was released later that night and returned home. Personnel at the fire included Scott Wageman, Kevin Wiltman, Nick Ekberg, James Felt, Lyle Ekberg, Jake Rahn, Larry Soderberg, Nick Gonzalez, Ken Rahn, Andy Vasquez, Devin Anderson, Theresa Soderberg, Sophia Sebade, Shelia Brown, and Riley Ekberg. The Wakefield Volunteer Fire Department has been exceptionally busy over the last six weeks. From September to October 15th they responded to 13 fires, 14 rescues, and two mutual aid situations, according to the Dixon County Sheriff's report.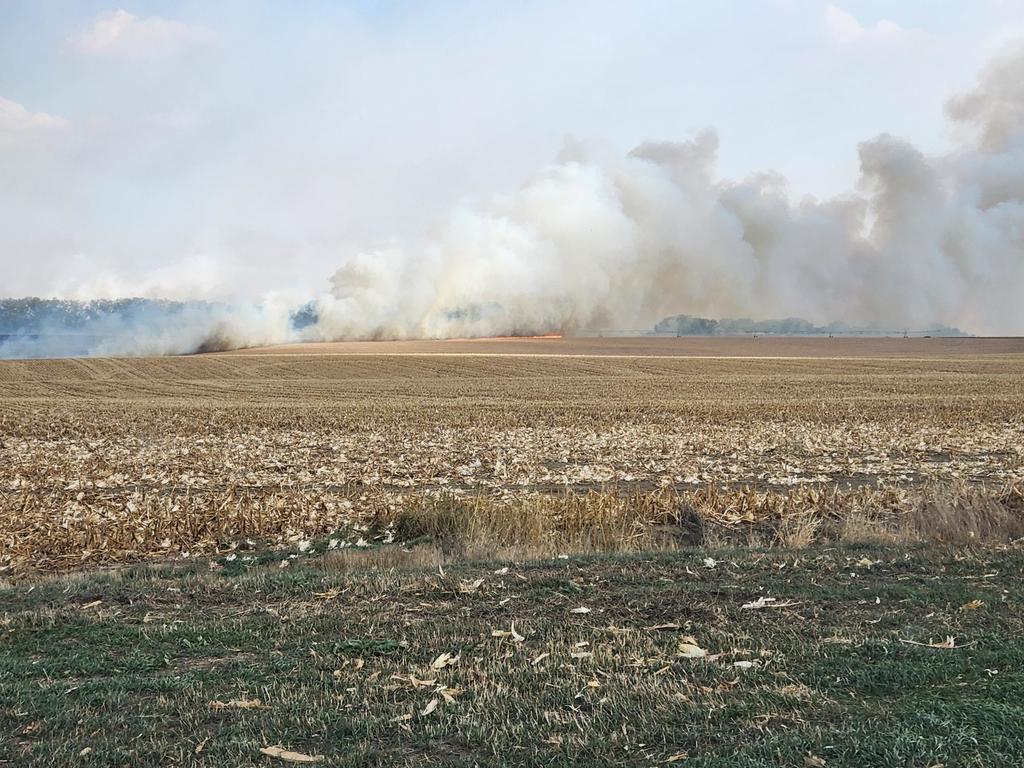 At the 25 September 2022 Nebraska State Sons of the American Revolution (SAR) Fall State meeting at Mahoney State Park, Kenneth Paulson of Wakefield, was recognized as a 30 year member of the State and National Society in a ceremony by the Nebraska State Society President Thomas Upton. Mr. Paulson is a verified descendent of his ancestor Pvt. Andrew McPherren born 1755 and died 1829. The patriot, Pvt. McPherren, spent seven years in the American Revolutionary War (for the duration) in the Pennsylvania Line and is buried in Sinking Valley Cemetery, Arch Spring, Blair County, Pennsylvania.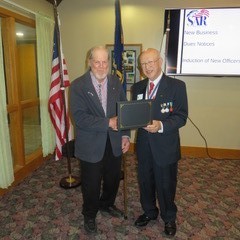 Singer/Songwriter and Nashville Recording Artist Daniel Christian will be performing concert at the Little Red Hen Theatre of Wakefield, Nebraska on October 8, at 7:30 PM. Performing with a full band, Daniel will perform a selection of covers and crowd favorites as well as some of his own inspiring original music. Tickets are on sale now at
www.littleredhentheatre.com
, or by calling (402) 287-2818. Described as "Jackson Browne with a fuller, more modern sound" Daniel Christian is known for delivering a great concert experience, rounding out a night of fantastic music with his knack for telling stories. For more than a decade, Daniel has been sharing his music across the country, completing a coast-to-coast tour of the United States in 2014, and releasing two new albums, "Coffee" and "Toast", in 2017. He has entertained audiences in theaters, churches, festivals, stadiums, and living rooms across the nation, including Bluebird Cafe in Nashville, Country Stampede, and SXSW and has opened shows for a diverse range of popular artists, including The Fixx, Selah, Montgomery Gentry, and many more. Daniel has won two National Country Music Festival awards, and has earned nine Omaha Entertainment Award nominations in his native Nebraska, including Best Singer-Songwriter, Best Alternative/Indie Artist, Best Christian/Gospel, Album of the Year, and Artist of the Year. Tickets are $20 for reserved seats and can be reserved at
www.littleredhentheatre.com
or by calling (402) 287 – 2818. Daniel Christian and his band are appearing thanks to the support of the Nebraska Arts Council and Nebraska Cultural Endowment, Dixon County Convention and Visitors Bureau, Wayne County Convention & Visitors Bureau, and season patrons of The Little Red Hen Theatre.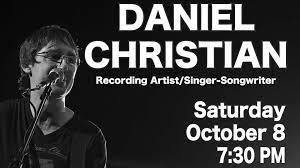 Teammates holding spirit week event at football game Friday The Wakefield TeamMates mentoring program is getting ready to celebrate local mentors and mentees on 9/23 as part of the organization's SPIRIT WEEK. Local TeamMates board members will be on hand at the football game on September 23rd making root beer floats for a free will donation. In addition to celebrating those currently involved in the program, the chapter wants to raise awareness about the need for local mentors. TeamMates Mentoring Program began in 1991 with the vision of University of Nebraska Head Football Coach Tom Osborne and his wife Nancy. Coach Osborne felt that the athletes in his program could make an impact on the middle school students, and twenty-two football players began meeting with middle school students in the Lincoln Public Schools. Of the 22 original mentees, 21 went on to graduate from high school while one left school early to pursue a successful Motocross career. Eighteen of the original mentees also obtained some form of post-secondary education The program now serves thousands of boys and girls across the Midwest, and mentors come from all walks of life. The local chapter of TeamMates has been in existence for several years at Wakefield Public Schools and is led by coordinators Timarie Hansen and Mike Clay. Community Members who donate their time to the program are "matched" with a student and meet with them on a weekly basis. Students and mentors remain matched throughout the students' school career. Mentors provide a constant presence for the youth in our community, simply by being present for their matches. The local chapter has a need for mentors in the upcoming school year and encourage anyone interested to reach out or stop by to talk with a TeamMates member at the root beer float stand at the home football game on Friday, September 23.

Soccer tournament being held at Gardner Field October 1st Wakefield Community Schools will be hosting what has been dubbed the inaugural Trojan Soccer Showdown for Saturday, Oct. 1 in the newly minted Gardner Stadium. The all-day soccer tournament has been scheduled for next Saturday, and will feature a full day of soccer games on a single elimination 6-8 team tournament format. The event has been planned for adult teams of up to 15 players per team, and Co-Ed teams are encouraged, but not mandatory. Games will begin at 10 a.m. on October 1, and to register a team, contact Israel Rodriguez at 402-369-4502 or Andy Vazquez at 402-369-6074. There is a registration fee, and half of the registration fees will go back to the Gardner Stadium for future projects.

Sheriffs office locks down local schools Last Friday afternoon, some suspicious activity reported to the Dixon County Sheriff's Department created a need for a call to lockdown schools in Wakefield and the area, until the incident was resolved. Around 1:15 p.m. on Friday, Sept. 9, the Dixon County Sheriff's Department received a call of a suspicious person near Highway 35 and 9 north of Wakefield. The subject was reported to be standing outside of a white Chevrolet Impala with what appeared to be a rifle. The Sheriff's office contacted local schools – including Wakefield, Allen and Emerson – and the school were put into lockdown. According to the Sheriff's office report, the Nebraska State Patrol located the vehicle south of Wakefield, and initiated a traffic stop two miles east of Wayne on Highway 35. The Dixon County Sheriff's office, Wayne County Sheriff's Office, Cedar County Sheriff's Office, Dakota County Sheriff's office and Nebraska Conservation Officer assisted on the call and traffic stop. Also on the report "after speaking with the driver and passenger of the vehicle, along with doing a search of the vehicle, it was determined that there were no weapons in the vehicle. Both the driver and passenger were released, and the lockdowns were lifted." From the Wakefield Community School's Social media page: "At 1:25, Superintendent Matt Farup was made aware of a potential threat in the surrounding community. Wakefield Schools immediately went into a lockdown response. All students returned to their classrooms and continued with daily operations. Wakefield staff was able to account for all students and staff quickly and efficiently. Wakefield Schools was notified at 2:22 by local law enforcement that there was no longer a potential threat. After the investigation, it was determined there was no immediate threat. Wakefield Schools has safety procedures and protocols in place. Staff and students will be practicing safety drills in the upcoming days. Wakefield Schools administration appreciates your support and understanding." According to other news sources Allen and Emerson were placed on lockdown as well.

Lubberstedt takes directors position at Senior Center By: Roxy Ekberg Republican Staff Dawn Lubberstedt has officially taken on director's position at Wakefield Senior Center after a "short-lived retirement" after long-time employment at Wakefield Community Schools.  Lubberstedt retired from her secretarial position at the school last April after 35 years at Wakefield's school. "I wanted to work at the school until my grandchildren graduated. I had talked about retiring a couple of years prior, but then thought I should stick it out until Olivia graduated," said Lubberstedt.  Due to the retirement of the previous director, she took over the position at the Wakefield Senior Center. The responsibilities of high school secretary and Senior Center director are similar, said Lubberstedt. Lubberstedt works part time as director, three days a week. Assistant director, Jenny Heimann, works the other two. Bookkeeping, creating a monthly newsletter, lining up activities, and coordinating board meetings are the director's main duties.  After graduating from high school in 1974, Lubberstedt worked as a nurse's aide at the Wakefield Hospital and Care Center. Her time at Wakefield Community Schools began in 1987. She started off working as an elementary paraeducator. At the time, Mr. Hartman was the principal and superintendent. Two years later, Lubberstedt took over as secretary and stayed on until her granddaughter graduated. The two finished their time at WHS together. Ludderstedt reflected on 35 years at the school, "I miss the kids. I loved seeing the kids every day. I miss the staff too." Lubberstedt was fond of all school activities, from athletics to National Honors Society, "It was always fun to hear announcements of kids' achievements. It was exciting to hear what the kids had accomplished." There was a switch from working with young kids at the school to working with older people at the Senior Center, however, she enjoys her new job. "I love helping people," said Lubberstedt.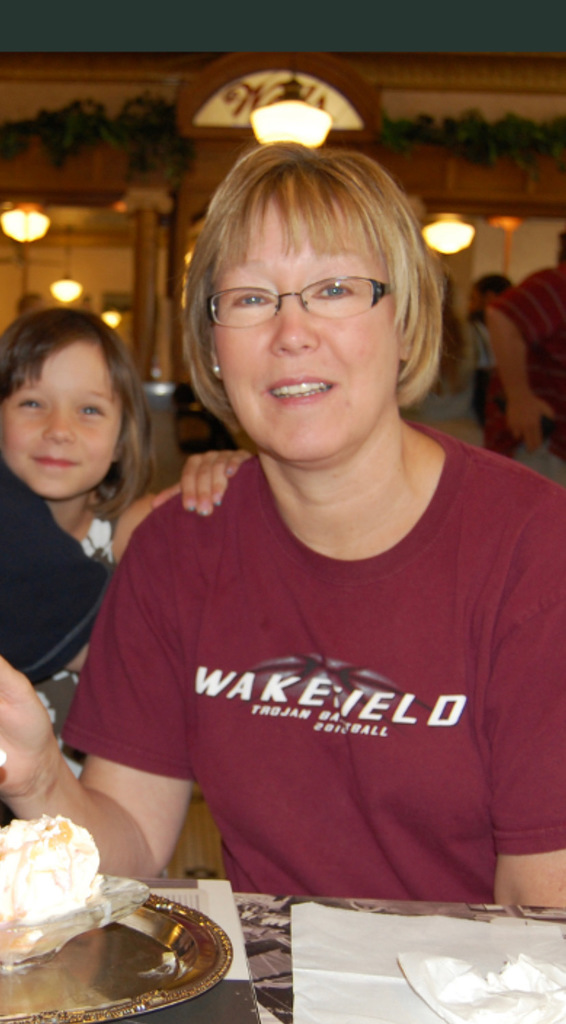 Homecoming in full swing in Wakefield Football game starts at 7 p.m. at the new field! This week started the annual Homecoming celebration – dubbed "Welcome to Our House" for the Wakefield Trojans and Wakefield Community Schools, with events and special days planned all week. Last Thursday, Aug. 25 the Homecoming Royalty was announced at the home volleyball game. This year's King Candidates are: Hunter Schultz, Franco Tapia, Caleb Chase and Cade Johnson. This year's Queen Candidates are: Makenna Decker, Madison Borg, Alex Arenas and Kasey Sullivan. Other Royalty includes: Juniors: Jordan Metzler and Juan Martin Sophomores: Isabella Andrade and Adrian Flores Freshmen: Cael Johnson and Mayte Flores Wednesday, Aug. 31 the Wakefield Boosters were hosting a tailgate event at Gardner Stadium with free hotdogs, chips and drinks and some entertainment; Thursday, Sept. 1 the volleyball team travels to Wisner-Pilger/Pender for a tournament. Friday, Sept. 2 the "big show" begins with a 2 p.m. Homecoming Parade through downtown, along with numerous youth activities on Main Street. At 3 p.m. the Homecoming Coronation will be held on Main Street, and then a short break until 7 p.m. with the varsity football game against Bancroft-Rosalie in the Gardner Stadium. At 10 p.m., the annual Homecoming dance will be held at the Wakefield Civic Center. "Spirit Days" at the school will wrap up on Thursday and Friday, Thursday is "Home Away from Home – Tourist Day" and Friday will be "No Place Like Home, Maroon and White day" – the public is encouraged to wear maroon and white to the game and coronation as well.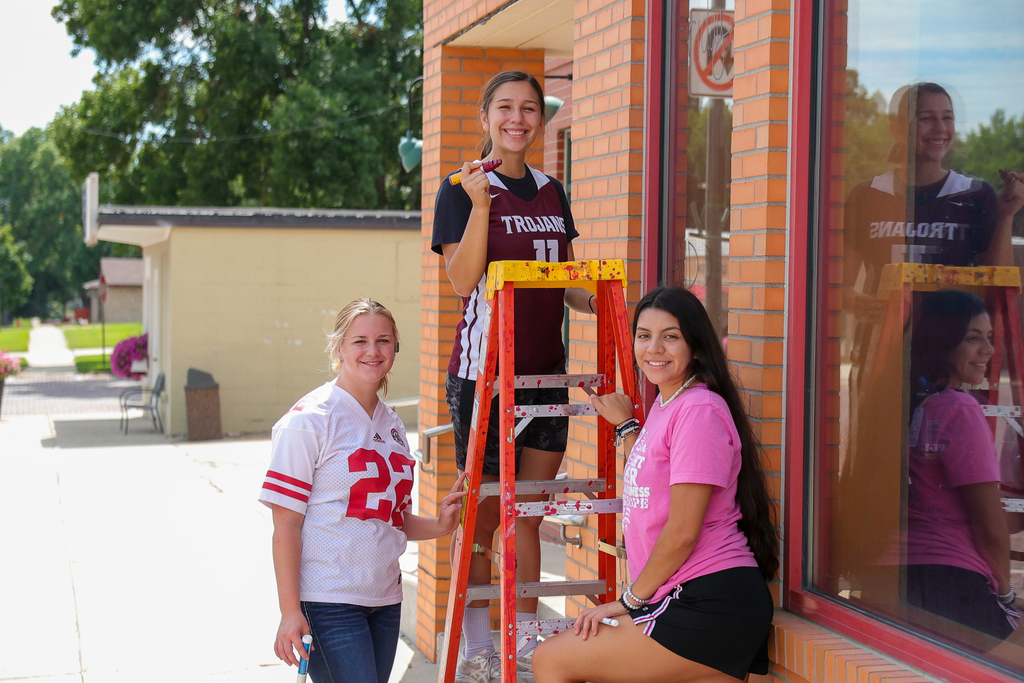 Trojan Football Sports Drink Scrimmage being held at the new football field The Wakefield Trojan football team will be holding the annual sports drink scrimmage at the new football field on Friday, August 19th starting at 7:00 p.m. The school wanted fans to know that the grandstands, rest rooms, and concession area won't be open to the public in time for the scrimmage. In addition they are asking spectators to remain on the east side of the track, and that any lawn chairs are placed on the track or the turf along the east sideline. They also request that no one brings gum or sunflower seeds onto the new turf.

Michael Foods donates to Wakefield Sports Complex Michael Foods Inc, recently made a contribution toward the Wakefield Community Schools stadium project – with a $25,000 check changing hands to help with the final construction, furnishing and other expenses with the stadium. "We are very excited about this project. It is something that the community has wanted to get done for a lot of years and to see it come to reality is exciting," said Brady Weaver of Michael Foods in Wakefield. "MFI supports projects that are important to our team members, their families and the communities they reside in. We support many projects and activities in Northeast Nebraska but this was an opportunity to support a very important project that will benefit youth and community members alike. We will also start $6 for 6 for the football team this year along with continuing the $1 for Ace for volleyball and $3 for 3 for all BB teams as we have the last few years." Superintendent Matt Farup added, "We are thankful for the support of the school and the stadium project from Michael Foods. It's great when the school and local businesses work together to help improve the community. We couldn't have done this project without the contributions and involvement of local businesses. And with their help I think we have built a facility that everyone will be proud of."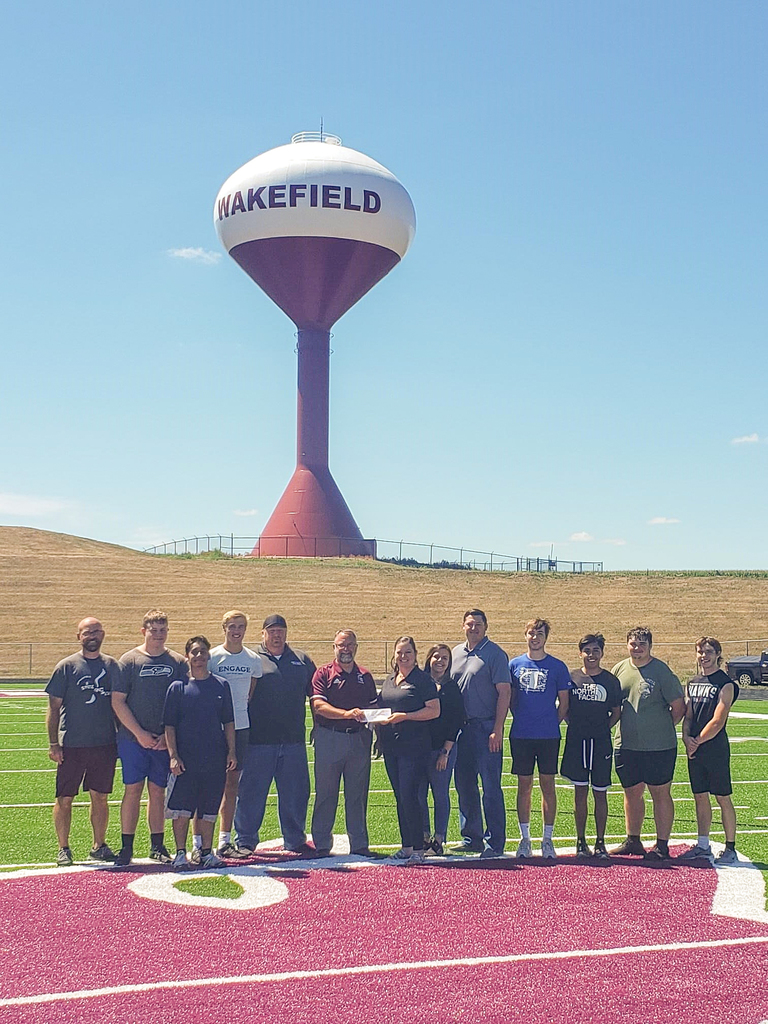 Submitted Article In Nebraska, windmill companies pay a name plate capacity tax to the appropriate taxing agencies where the windmills are located. Dixon County has 101 windmill turbines located in six townships. The windmills became operational in the last quarter of 2018. According to County Supervisor Lisa Lunz, the County is frequently asked the question, "how is the windmill money being spent?" The nameplate capacity tax that public entities have received is shown in the following chart. The total received has historically been $1,119,252 per year, and cumulatively from the 4th quarter of 2018 - $2.84 million. Figured are approximately $11,082 per windmill. To date Dixon County has itself received $597,910.50 which is $239,702.80 per year. This money has been used to pay county expenses. The report nearby also shows the remaining funds that have been distributed throughout the county to the schools, fire departments, townships, etc. where the windmills are located.

Wakefield Athletic Complex nears completetion After years of planning, and a lot of work lately - the Wakefield Athletic Complex has begun to take final shape in the last few weeks with the turf being laid on the field, and some final touches in view as the school season quickly approaches. "I sincerely believe that the stadium will be a great asset for the school and community. It will be a great experience watching meets, games, and other events," said Superintendent Matt Farup. "We plan on opening the stadium and doing a dedication on September 2nd during halftime of the first home game of the season. That's what we have on the dedication plaque. We know Nemaha Sports Construction is doing everything possible to hit that timeline. I imagine we'll be able to play game on that date but I imagine there might be a few things left to do but the major things will be in place to host a game," said Farup. In addition to the use for the school, the hope is to find a way to allow the public access to the facility as well - as long as the special additions to the field - the turf and the hoped longevity of the track, with Farup saying there are "still things to iron out" for the public access. "We definitely want the facility for public use, but we must protect the investment. We went with artificial turf so that it could be used by the public at any time. There can be absolutely no gum, no sunflower seeds, no food or drink besides water on the turf at any time. We need to trust the public that they will abide by those standards. There can be no bikes or vehicles of any kind on the track or turf. We want the public to use the track and turf anytime as long as there's no damage." Farup also pointed out a few of the best new additions for fans: "One great detail is we will have the best concession stand and restroom facilities around. The women's restroom has 10 stalls! I also think people will really enjoy the concourse and concession areas. You'll be able to visit the concession stand and still see the action on the field." Until the field has been finally completed though, Farup did as for the public to take care visiting to look: I would also kindly ask that people do not drive up to the stadium. If you would like to walk up the south hill to take a look, that would be great, but please do not enter the stadium or the East staging area. It is dangerous, and important elevation and construction markers are important. There will be ample time to see and enjoy the stadium when it is done. "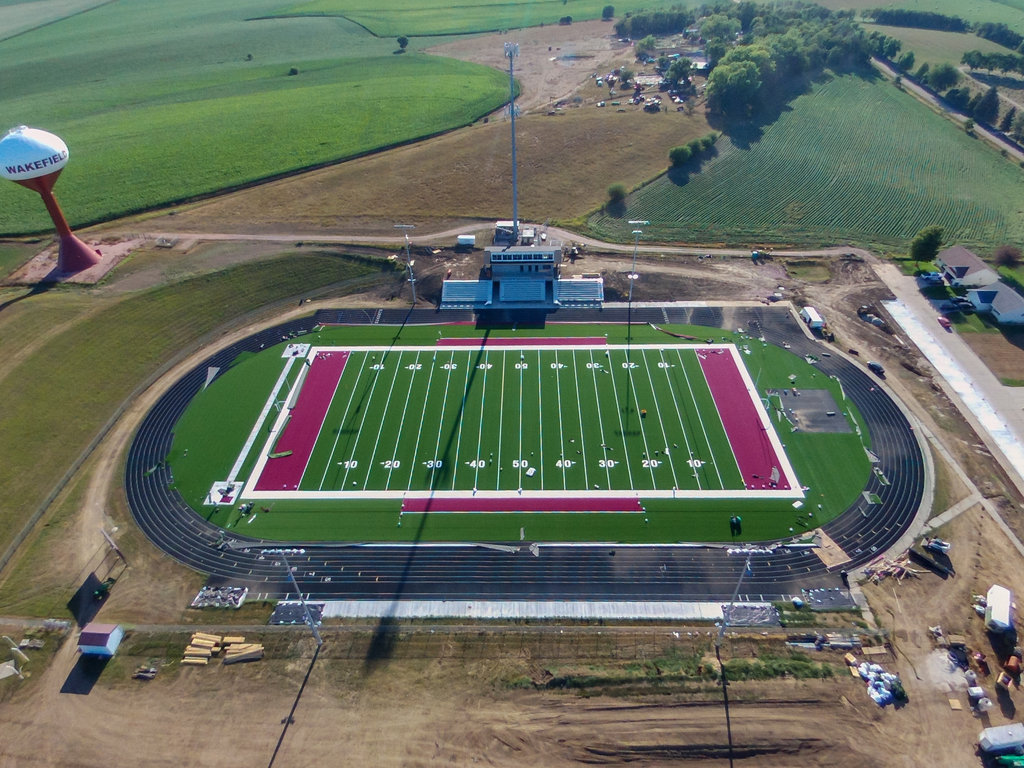 Annual Mid-Summer Classic Held; 9u Team takes first place Picture gallery can be found here:
https://paperandink.smugmug.com/Wakefield-Republican/Mid-Summer-Classic-2022/
Players, coaches, family and onlookers flooded into Wakefield over the weekend for the three-day "Lefty Olson" Mid-Summer Classic baseball tournament held June 24-26 on multiple fields on June 24-26. The brackets were pool play format, with finalists determined by champions playing champions across those pool draws. Teams of 9-and-under, 10-and-under, 12-and-under and 14-and-under baseball players from all across mainly eastern Nebraska competed at the event. The overall winning teams for each bracket were: 9 and under: Wakefield, first-place 10 and under: Vermillion, first-place; second was Wayne 12 and under: Norfolk Steel, first-place; second was West Omaha Hawks 14 and under: Wahoo, second was Hartington Organizers were able to gather 200 volunteers from locals to help take care of the planning, concessions, gate and field management, ranging in age from 9 years old to 81. All said and done, 31 teams attended the competition, with estimates of more than 2,000 people that attended at park. The annual Mid-Summer Classic helps to fund all the youth sports for the whole year (t-ball, volleyball, football, basketball, baseball, dance/cheer, wrestling) under the assistance of the Wakefield Youth Rec. "This was our 35th annual tournament," said organizer Tiffany Lamprecht. "We're so appreciative of all our volunteers and grateful for all that came." Pictures from the Mid-Summer Classic can be found on pages 6 and 7 of this edition of the Wakefield republican.

Logan Bokemper and coach Mike Hassler participate at Nebraska All-Star football Classic A Wakefield coach and senior were both tapped to participate in the 44th Nebraska Eight-Man All-Star Football Classic at Adams Central last weekend. Coach Mike Hassler and Wakefield Senior Logan Bokemper both "suited up" for the game, Hassler coaching for "East" and Bokemper played for the "East" team. "It's always great to get to see your senior football players suit up one more time to play the 8-man game. I was lucky enough to be on the staff, so it made it a little extra special for me," said Coach Hassler. "The week leading up to the game was just a great experience for both of us. The Nebraska Eight Man Coaches Association really knows how to host an All-Star experience. As a player I think Logan built some lasting relationships with the players on the East squad and as a coach I was able to expand my coaching network, learn new things, and make some new friends myself. I think we both wish the game had come out a little better, but I was proud of the week Logan and the East squad put together. It was definitely an unforgettable experience." According to other "sports news" – the "West" team was able to win, outscoring their "East" counterparts 59-14.