Wolfpack wins district golf
https://paperandink.smugmug.com/Wakefield-Republican/Wolfpack-District-Golf/
The Tri-County Northeast Wolfpack took the Championship title at the C-3 District tournament held in Hartington on Monday, May 16, as well as qualifying a number of individual golfers to the state tournament. The Class C State Golf tournament will be held in Columbus the week of May 24-25 at the Quail Run Golf Course, 327 S 5th St, Columbus, NE 68601. The First round will be begin on Tuesday, May 24 at 9 a.m. with 18 holes for the day; and the Championship second round of 18 holes will be held on Wednesday, May 25 with a 9 a.m. tee time. Along with the District title, and team competition qualification Nathan Oswald and Ben Jorgensen qualified for the individual portion of the tournament with their rounds. The TCNE team golfed a 352 total to win the District title and qualify the team of Nathan Oswald, Ben Jorgensen, Garrett Blanke, Ryan Anderson and Brody Floyd. The team is coached by Scott Hansen. The second-place team was Hartington Cedar Catholic, who marked a 355 under Coach Rick Kuehn, and third was the West Holt team, that carded a 356 under Coach Todd Hale. Other teams in the district were Ponca, Battle Creek, Norfolk Catholic, Hartington-Newcastle, Crofton, Summerland, Elkhorn Valley, BRLD, Laurel-Concord Coleridge, Wakefield, Winnebago and Lutheran High Northeast. Nathan Oswald won the individual side of the tournament, carding a 78-stroke 18-hole score, leading the pack by four strokes. Teammate Ben Jorgensen picked up the third-place spot with 82 strokes on his card, tying score with second-place Jay Steffen of Hartington CC. Garrett Blanke was 11th for the Wolfpack, with an 89 total. Ryan Anderson finished in 36th overall with 103, and Brody Floyd was 45th with a 110. There were 58 golfers at the event.

Michael Foods donates to Wakefield Schools Michael Foods recently presented a check for $1368.00 to Wakefield Community School for this past basketball seasons 3 for 3 program. The program rewards the school with a three dollar donation for each three pointer made by the Trojans and Lady Trojans during the basketball season. This past season both teams combined for a 462 total three pointers. On hand representing Michael Foods Incorporated was Brady Weaver and accepting were members of both teams as well as coaches Joe Wendte and Cory Brown.

Benefit planned for Erica Niemann April 24th A benefit has been planned for Sunday, April 24, for Erica "Chickee" Niemann, a student at Emerson-Hubbard High School, who was recently injured during a skiing accident. Niemann was participating in a ski trip on March 12, and suffered a broken back, a skull fracture, a brain bleed, fractured ribs, bruised lungs and other injuries, according to a poster announcing her benefit. As a part of the benefit, a Co-Ed Venice Volleyball tournament has been scheduled along with a free-will donation meal and silent auction planned for April 24 at the Emerson-Hubbard High School. The tournament will begin at 10 a.m. that day, and participants must be currently 9th-12th grade high school students. Each team must have 6-8 players, and there is a $10 entry fee for each player. Organizers have set the team limit at 10. The meal and silent auction will open for patrons at 11 a.m., and all are invited. To make a donation to the silent auction, or sign-up as a volleyball team, contact Traci Millard at 712-253-6117, or Melissa Twohig at 712-389-1168. If anyone cannot make the fundraiser date, there has also been a GoFundMe set up to benefit the family and help with medical expenses as Niemann continues to recover. As of the beginning of the week, the GoFundMe had progressed toward the hoped for $30,000 goal. The donation site can be found by navigating to
www.gofundme.com
and searching for Erica Niemann.

Lundahl and Waldo selected for Junior Law Cadet program Two local youth have been selected for the 2022 Junior Law Cadet program through the American Legion in June. Walker Lundahl, of Wakefield and Joey Waldo, of Allen were both selected for the Legion's program to be held this June in Grand Island at the Nebraska State Patrol Training facility. Each year, the Legion chooses two high school juniors that apply from each of the American Legion's 14 districts to participate in the program. Over the four day event, students will have the opportunity to explore and experience the various aspects of law enforcement training. Students participate in daily calisthenics and receive training in firearms, self-defense, fingerprinting, K-9 handling, accident and criminal investigation, lie detector testing, and state patrol car driving. As part of the application process, all students must be High School Junior in good health and able to participate in physical activities; possess a positive attitude and display respect for law enforcement; Have good grooming, average or above scholastic record, and be able to share the knowledge gained through the program with others; must possess a valid Nebraska operator's license or learners permit; must reside in the State of Nebraska; and must have attended an accredited Nebraska High School or home school equivalent for the 2021-2022 school year. Junior Law participants are then selected from a competitive evaluation based on interest, citizenship, evidence of self-discipline and the ability to share their knowledge from others – as well as an endorsement from the school principal or superintendent. The 2022 event will be held June 21-24 this year.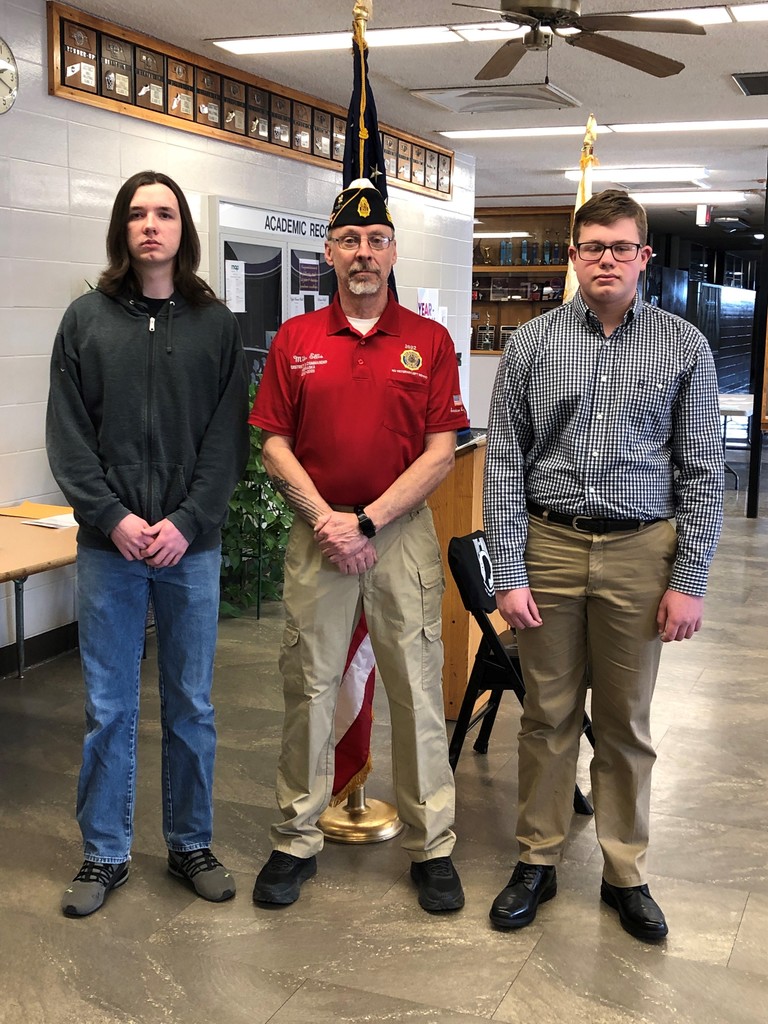 City repairs water main break on Oak Street An emergency alert went out by email and text to the residents of Wakefield last week from the City of Wakefield about a suspected water main break that had been reported, and needed to be fixed. The initial contact from the City came out on March 23 around 2 p.m. and mentioned that "due to a water main break, the City of Wakefield is asking residents to conserve water, if possible, for the rest of the day." By 8:16 a.m. the next morning, March 24, a second notice was received that the break had been repaired by the City crew, and everything was back to normal. The break occurred right in front of the Municipal Water Works building on Oak Street (Highway 35) at the east end of Third Street. "Around 9 am John Pretzer found water to be coming to the surface by our filter house," said incoming City Administrator Chad Mackling, "We attempted to shut off all valves for the water supply but found out that the water was coming from a pipe feeding from the filter house itself. This meant that our filter water supply line was hit. Our city staff and office personal put the town on immediate notice and monitored the water levels in the water tower. We managed to get all water off in a short period of time not affecting anyone's water supply but only the pressure to the homes. The only business affected by this was Cubby's." "City crew and myself, along with plumber Mike Zeisler, responded to the broken pipe and completed the repair during the business day," said Mackling. "City staff flushed hydrants and primed the filter house all by 6pm. We would like to thank the community for understanding the small amounts of brown water due to dirt infiltration to the pipe itself. A special thanks to our office personal who put the town on alert right away and to our staff that ultimately made the repair possible the same day and MIke Zeisler for his rapid response. The pipe was nearly 9' in depth." To receive alerts from the City of Wakefield on email or mobile devices, contact the City offices for details.

The 12th Annual BIG Show went off without a hitch last Wednesday, March 16th. The list of schools that attended the 12th Annual BIG Show were Wakefield, Pender, Bancroft-Rosalie, Winnebago, Osmond, Dakota Valley, Homer, Ponca, Plainview, Allen, Wausa, Randolph, Sergeant Bluff-Luton, Wynot, Stanton, Bloomfield, and Dodge-Howells. The day began with schools and students hanging artwork from 8:00 a.m. to 10:00 with work being judged from 10:00 until 1:00 in the afternoon. While the judging was going on attending art students participated in a group project where they created carnival games for the Wakefield Elementary students, which had the opportunity from 1:00 to 2:00 to come in and enjoy a wide and creative variety of games offered by the attending towns. At the end of the day, Dakota Valley was recognized as the top ticket grossing game and was sent home with a special award. A Wakefield Artist received recognition at the conclusion of the day with special honors. Aishah Valenzuala received Honorable Mention Judge's Best of Show for her oil pastel titled "Ha Ha Ha". Aishah was also recognized by visiting students as the "Outstanding School Artist" from Wakefield. At the end of the day Mr. Hassler had this to say about the 12th annual BIG Show. "This show isn't possible without Miller Building Supply. Every year they go out of their way to loan us OSB Board, and I know because of recent times that it is not always easy to get in stock. Without them coming through for us, there is no BIG Show. Support like that is what makes this show so special. My kids stepped up once again, they do an outstanding job of being bossed around for three days by me. They understand what needs to be done, and that because of this show they get to show off the outstanding work they produce in the classroom. This is a great event for Wakefield and Northeast Nebraska and we plan on continuing this tradition for years to come." More pictures of the work of Wakefield and Allen artists can be found at the following link:
https://paperandink.smugmug.com/Wakefield-Republican/The-BIG-Show-2022/

National Honor Society inducts new members A number of Wakefield youth were named to the National Honor Society at the group's induction ceremony on Wednesday, March 9 last week. New members joining the Wakefield Schools organization included: Ryan Anderson Ashlyn Boeckenhauer Katie Borg Samuel Chase Miguel Ibarra Daveigh Munter-McAfee Jordan Metzler Megan Meyer Ashlyn Vazquez The new inductees were honored at the March 9 event by Advisor Michelle Galles, and current NHS members: Madison Borg, Olivia Donner, Cade Johnson, Kaleigh Mattes, Cora Rischmueller, Jocelyn Weaver and Aishah Valenzuela. Valenzuela gave the program's welcome, and Donner gave the history of the NHS. Mattes told the group and audience members the goals of the NHS and the qualities of Scholarship, Service, Leadership and Character were presented by current members, Rischmueller, Borg, Johnson and Weaver, respectively. The National Honor Society is celebrated its 100th year in 2021, and, according to the NHS website, boasts a nationwide membership of more than 1 million students in all 50 states. More pictures can be found at the following link:
https://paperandink.smugmug.com/Wakefield-Republican/National-Honor-Society-2022-1/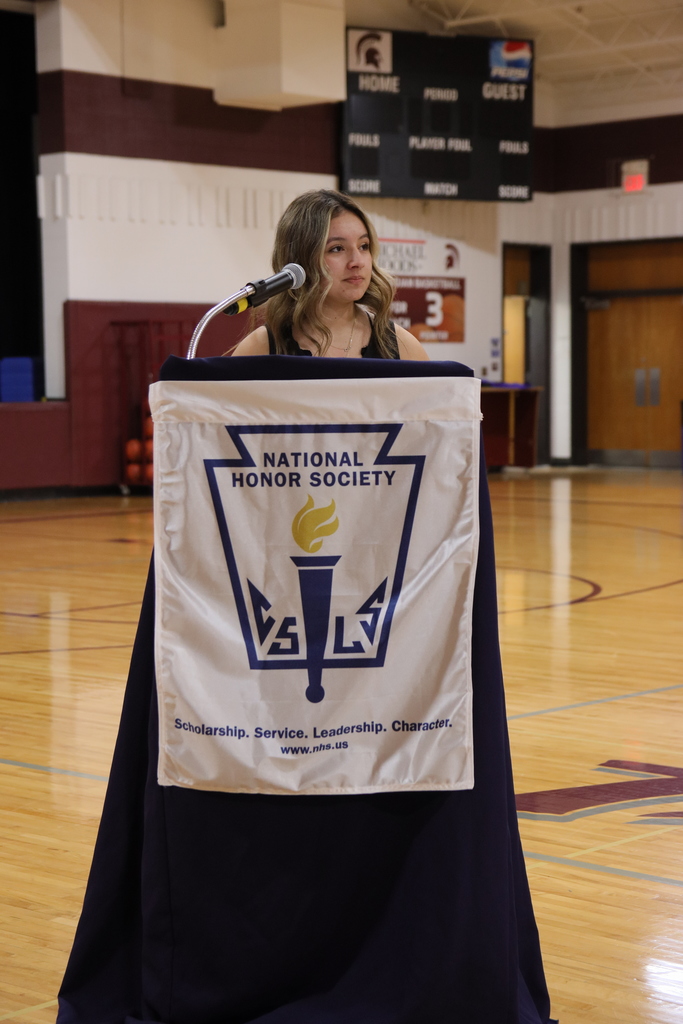 12th Annual BIG Show Wednesday, March 16th The 12th Annual BIG (Art) Show will be hosted once again by the Wakefield High School Art Club on Wednesday, March 16th in the Wakefield Activity Center. The show is set to open to the public at 1:00 p.m. and will be open until 4:00 in the afternoon. When the Art Club and Art Teacher Mike Hassler set out to host the BIG Show twelve years ago they hoped to attract schools from the Tri-State Area. The list of schools attending the 12th Annual BIG Show will be: Wakefield, Pender, Bancroft-Rosalie, Stanton, Osmond, Dakota Valley, Homer, Ponca, Allen/Emerson-Hubbard, Wausa, Sergeant Bluff-Luton, Randolph, Plainview, Wynot, and Dodge-Howells. The day will begin with schools and students hanging artwork from 8:00 a.m. to 10:30. The artwork will then be judged by area judges from 10:30 until 1:00 in the afternoon. While the judging is going on attending art students will participate in "The BIG Show Carnival" group project, which will give the visiting schools an opportunity to interact with Wakefield Elementary students. Over the course of the afternoon Junior High and High School artwork from the 15 attending schools will be on display for viewing by the general public. Wakefield Elementary School Students will also have artwork on display. As the afternoon progresses a Judge's Best of Show and Honorable Mention Best of Shows will be awarded. Once again participating schools will be selecting an "Outstanding School Artist" from each school. Students from all schools will vote on their favorite artwork from each school and those students will be recognized with awards. The Wakefield Art Club will finish the day by recognizing the top ticket grossing carnival game with an award. Mr. Hassler recommends that you get there early as there will be a lot of great artwork on display and it might take you a little while to get through the show. Mr. Hassler stated, "A big part of our show is for our students to get a chance to show off their work to as many people as possible, and The BIG Show has become an event I think a lot of people look forward to attending every year."

Logan Bokemper signs to play football at Morningside On Tuesday, March 8 Wakefield High School senior Logan Bokemper signed his letter of intent to play football for the Morningside University Mustangs. Bokemper concluded a remarkable final season as a Trojan in 2021 where he broke several state football records in the game versus Plainview where he scored 11 touchdowns, had almost 300 yards rushing, and scored a total of 74 points in just that game. He also holds Wakefield School records for rushing yards in a season with 1,542, carries in a season with 182, touchdowns in a season with 35, and points in a season with 246. Present at the signing were his parents Carla and Russ Bokemper, head football coach Mike Hassler, as well several members of the Trojan football team.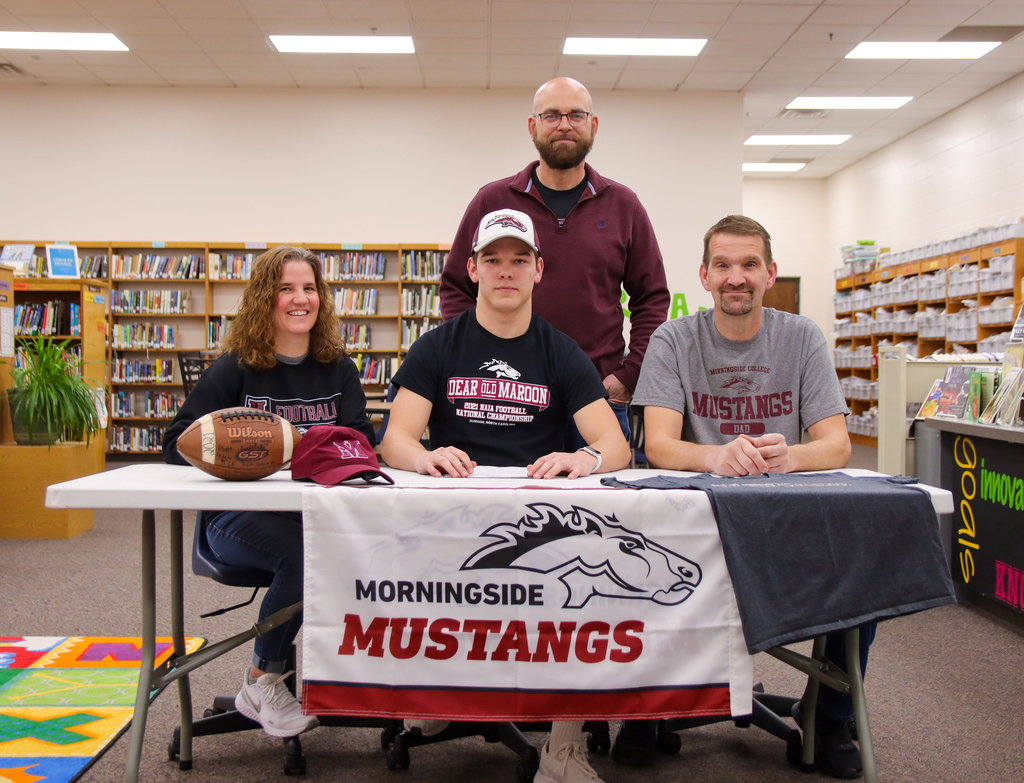 Alumni Banquet set for Friday, July 1st The Wakefield Alumni Reunion Committee has set a date and location for the tri-annual 2022 alumni gathering planned for this summer. Postcard reminders will be mailed soon for the event, which was set for the weekend of Friday, July 1 at the Wakefield Civic Center. More details about the event's timing and gathering will be forthcoming as they are determined. Anyone with address changes for the annual mailing should send those to the Wakefield Alumni Association, P.O. Box 55, Wakefield, NE 68784, or by email to the following address:
wakefield.ne.alumni@gmail.com
. This year's committee includes: Julie Oswald Rose, class of 1986; Kristin Eaton Salmon, class of 1999; Brenda Tello Montoya, class of 2000; Zach Dolen, class of 2003 and Gloria Tello, class of 2009.

Camden Geiser is Wakefields newest Eagle Scout Camden Geiser, son of John and Shanda Geiser, of Wakefield Boy Scout Troop 172 passed his Eagle Board of Review to become the Troop's newest Eagle Scout. The board of review was held in Winside on January 10th and consisted of the district chairman and three Scout leaders from the local district. For his Eagle project, Camden and his team assembled a bench and it was placed at the Veteran's Garden outside of the Legion Hall. Though he completed his project last summer he had to finish a few Eagle Scout required merit badges before he was eligible for his Board of Review. Camden has been an active member of the Troop since April of 2019 and is currently serving as a patrol leader. He has gone with the Troop on summer camps to Lewis and Clark Scout camp in South Dakota and Camp Wilderness in Minnesota. This summer Camden is planning on going to Sea Base High Adventure in the Florida Keys and Medicine Mountain in the Black Hills of South Dakota.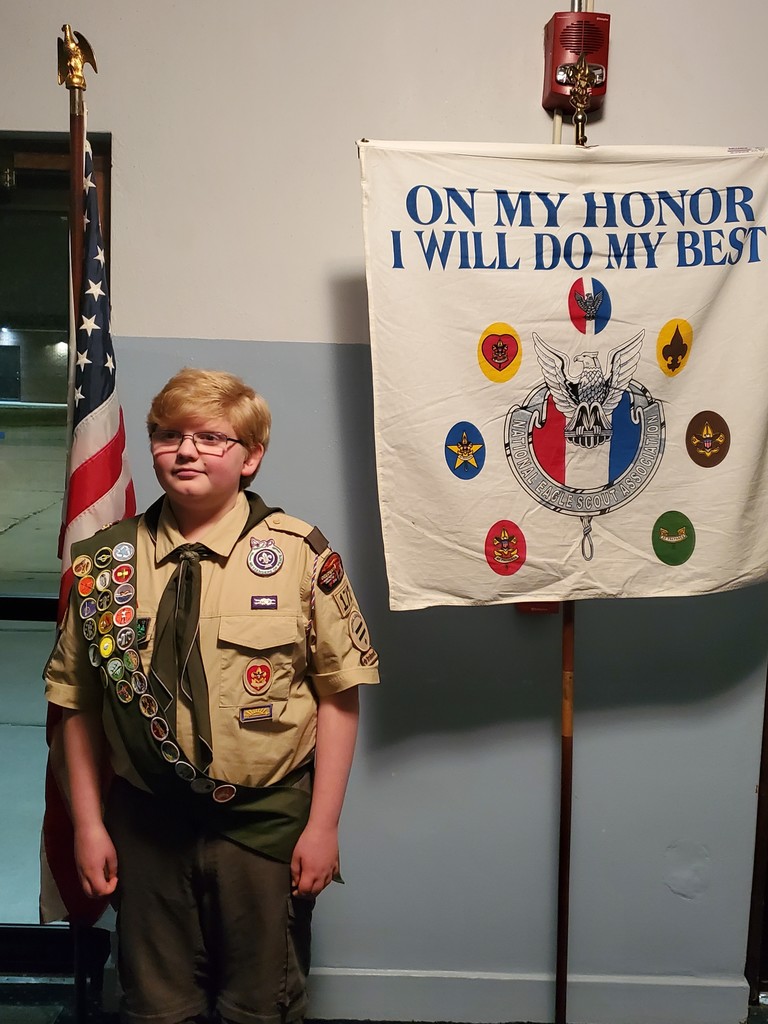 Dixon County Spelling Bee held Ingrid Lopez Ramos places fifth The annual Dixon County Spelling Bee was held on Tuesday, January 25th, in the main gym of Allen Consolidated Schools. Students from Wakefield, Allen, Emerson-Hubbard, and Ponca competed spelling a series of increasing difficult words until only one remained. Wakefield sent five students to the Bee: Mark Ruiz Cardona, the winner of last week's Wakefield Spelling Bee; Gracyn Sullivan, Lesly Fernandez, Asher Geiser, and Ingrid Lopez Ramos. After a written exam and many rounds of oral spelling a new winner for Dixon County was crowned: Kaylee Kloster of Ponca. She is now able to participate in the Midwest Spelling Bee in Omaha on Saturday, February 26th where she will compete with other students from across Nebraska and western Iowa. The top five finalists in the spelling bee were: first place Kaylee Kloster, Ponca; second place Luke Jackson, Ponca; third place Abrahm Krusemark, Ponca; fourth place Books Kephart, Ponca; and fifth place Ingrid Lopez Ramos of Wakefield.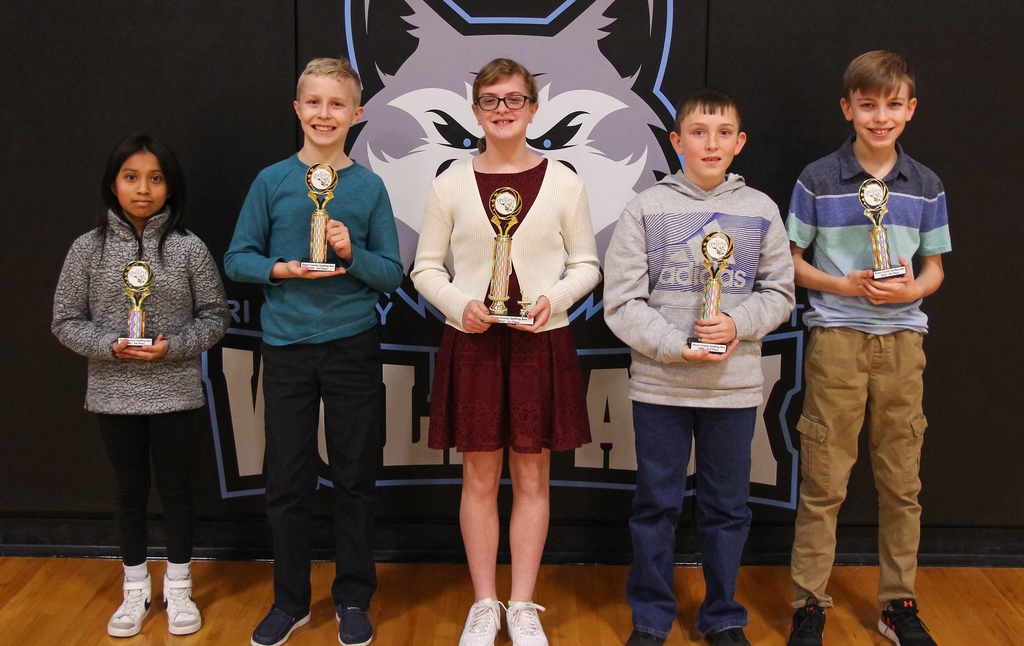 Mark Ruiz Cardona wins Wakefield Spelling Bee Wakefield Community Schools held the annual Wakefield Spelling Bee on Tuesday, January 18th at 1:30 p.m. in the main gym. Participants from grades fifth to eighth grade took tests prior to the event to determine who would participate. Then through a course of increasing difficult words to spell students were eliminated until there were only five left. The top five finishers were: Mark Ruiz Cardona, 6th grade who won the spelling bee, Gracyn Sullivan an 8th grader took second, Lesly Fernandez also from the 8th grade took third, Asher Geiser from the fifth grade placed 4th, and Ingrid Lopez Ramos a fifth grader placed fifth. Those five will travel to Allen next week on Tuesday, January 25th at 1:30 p.m. to participate in the Dixon County Spelling Bee. The winner there will go on to participate in the Midwest Spelling Bee in Omaha on Saturday, February 26th where they will compete with students from across Nebraska and western Iowa. The winner of the Midwest Spelling Bee will compete at Scripps National Spelling Bee in National Harbor, Maryland.

Jumpin' Java opens at Third and Main What was a dream for Ashley Campbell has now become a reality and her reality is only the beginning. The Jumon' Java House located on the corner of 3rd and Main Streets here in Wakefield is now open for business and serving everything about coffee and smoothies. According to Campbell it's only the beginning of what her dream-vision involves. "I want to offer healthy alternatives to the people and the kids here in town," Campbell said. "Eventually, I want to be here for the kids to have a place to stop after school and have a healthy treat and the parents to stop for coffee or one of our other items." The items include a full line of coffee products, smoothies, both fruity and healthy, and eventually a line of soups and sandwiches for lunch. For the immediate future, until the New Year, Campbell will be open from 7:00 a.m. to around 1:00 p.m. but the plan is to open at 5:30 a.m. once things get started next year. She wants to include the kids because that is her nature - she recently was a para-professional at Wakefield Community Schools and was torn between continuing with the kids she has grown to love and help over the past couple of years and her dream of opening her own healthy store. "I wanted this to feel like a home anyone could come and stop by," Campbell said. "That's why we put 'House' in the name." Her boyfriend, JJ Cruz is on hand when he's available and that is the 'we' that put in the 'house'. "Obviously we are new at owning a business and doing what we are doing at the moment," Campbell said. "But I did this while I was going to college and I just feel like this is what I'm meant to do - healthy foods for friends."

Downtown beautification continues with Lazy Acres Thanks to a participation grant, Lazy Acres Decor and Floral changed its storefront and let the sun in, so to speak. "If we wouldn't have been able to get the grant, we would have never done a project like this," Lazy Acres owner Sarah Ekberg said. "It is a wonderful program to help local businesses and help smaller cities stay current with storefronts and signage." The grant Ekberg was referring to is part of the Downton Beautification and Rehabilitation There is a limit on the amount a business can receive and 15 percent of the amount must be paid by the business up front - the rest of the project will be paid by the grant. "When Megan (Weaver) first told me about the grant I was ready to sign up," Ekberg said. "I think I was the first application turned in - it was a 'no brainer' to me - 85%." The Wakefield Community Redevelopment Agency administers the matching grants and there is a $75,000 limit per business in the amount available. Ekberg put in new doors, a new entryway with a lot less brick and a lot more window. "It is so much brighter in here with the additional sunlight," Ekberg said. "I feel like I'm almost outside." Although the timing of her project was not the best, she's extremely pleased with the outcome of her decision. "A lot of people were doing their decorating for Christmas and we were pretty hard to get to the store," Ekberg said. "People in town and my customers are the best, they would call and we would figure out a way to get them what they needed - either at the back door or I would take it to them." Ekberg has also had a first-time event since the project was basically completed. "I had my first window-shoppers the other day," she said. "You can actually walk by my business and see in a window - it was great."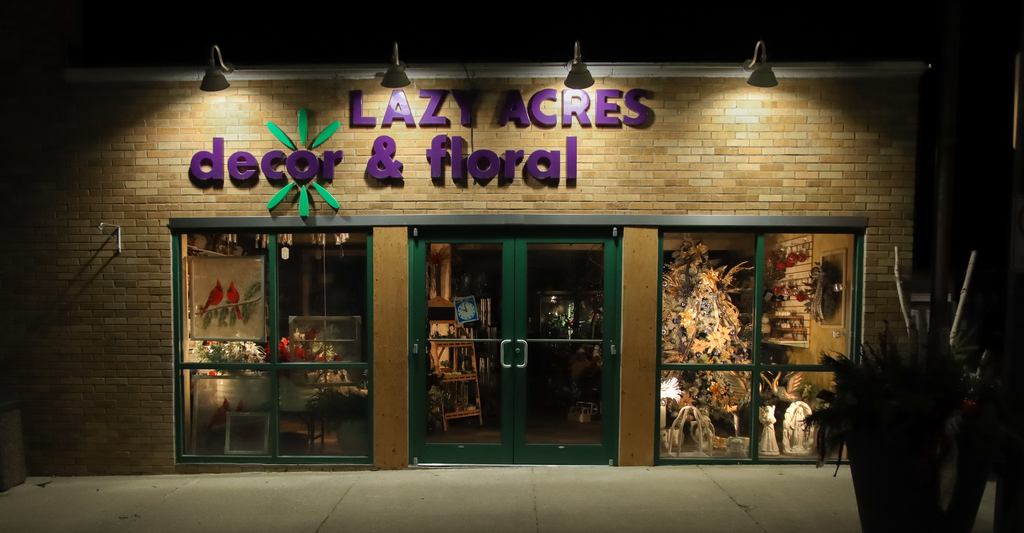 Senior Center gets new sign The Wakefield Senior Center is set to put itself on the local visual map by erecting a new sign in front of its door for all to see. "We wanted a sign to match the quality of where we are," Wakefield Senior Center director, Sherry Oswald said. "We have this beautiful building and we wanted to put up a sign we could all be proud of displaying." And, as is the fashion of the senior center - they did it economically. Wakefield Economic Development director, Megan Weaver designed the sign and the center intends to apply for an up to $1,000 grant from sales tax money to pay for it. Oswald's husband, Steve and senior center board member, Jerry Nicholson will put up the sign and the only cost to the Wakefield Senior Center will be the sign. "It's how we do things," Sherry Oswald said. "It's kind of how we have to do things - thank goodness my husband loves me as he gets roped into a lot of projects around here." Including meal delivery. It is how things should work in a small town and it seems to be working here. The economic development director designed the sign, according to Oswald, her husband and board member will put it up and hopefully, sales tax money will foot the bill for the materials. "We just want to keep moving forward," Oswald said. "Whatever is necessary we will do."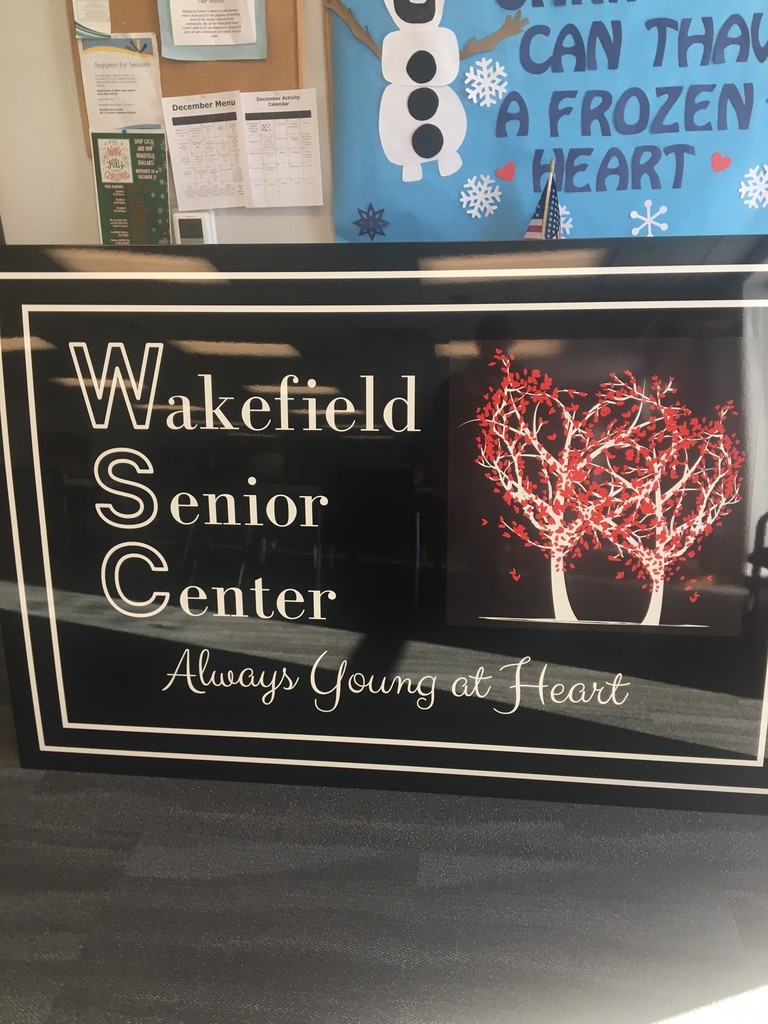 Wakefield Schools honors Veterans Wakefield Community Schools honored local Veterans with its annual Veteran's Day program in the high school gym on Thursday, November 11. The honor program began with a welcome from Wakefield Community Schools, superintendent, Matt Farup. The Anton Bokemper Post 81 American Legion presented the Colors to the gathering. Wakefield Student Councils presidents Olivia Donner and Rylee Reeves led the crowd in reciting the "Pledge of Allegiance". The Wakefield high school band, under the direction of Esly Ovando performed the "National Anthem". Pastor Charity Potter delivered remarks about Veteran's Day then the Wakefield 2-6 grades recited "On Veteran's Day". Wakefield's 5th-grade students then recited the poem "In Flanders Field". The high school choir performed "In Flanders Field" arranged by Greg Gilpin. The Quilt Shop Quilters the presented Quilts of Valor to 16 area Veterans. Caleb Chase, Eliseo Sarmiento and Jocelyn Weaver presented Wakefield Student Poetry. Farup delivered closing comments before the Wakefield Band trumpeters performed "Taps" as the American Legion retired the Colors. More pictures from the Veteran's Day program can be found on the Republicans Facebook page:
https://www.facebook.com/wakefieldrepublican/photos/pcb.3089258484653071/3089258281319758/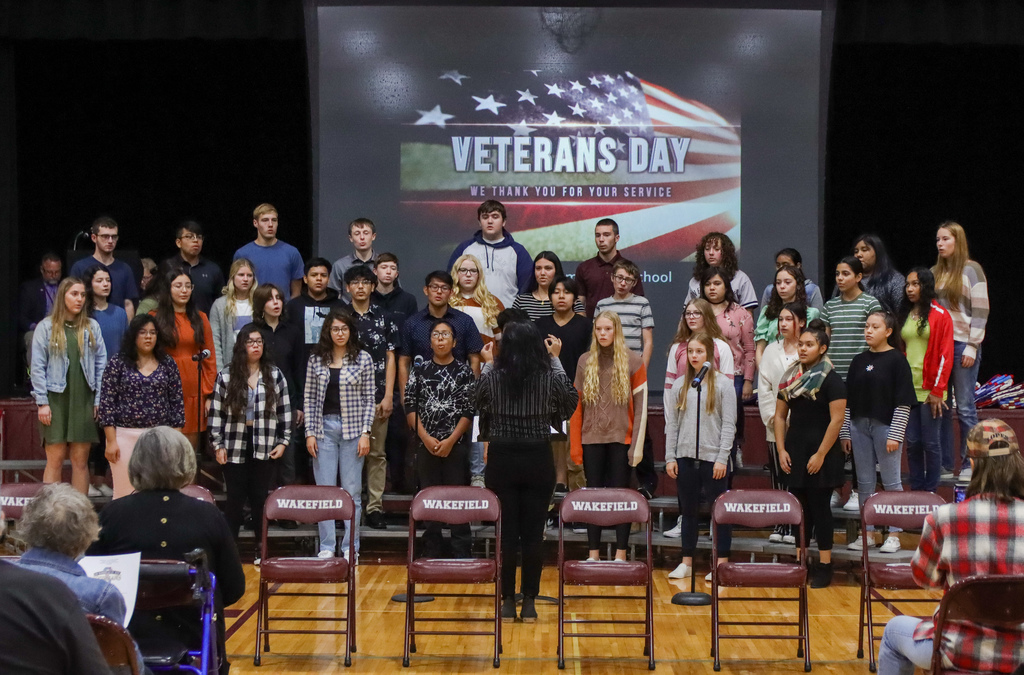 Wakefield Athletic Complex becoming a reality After years, months and days, the Wakefield Athletic Complex started to become a reality last week when the Milo Meyer Construction Company started doing some dirt work at the site. What was an idea some years back has been picked up by present school administration, interested community members and the Wakefield Community Board of Education to move Wakefield into the next realm of high school sports. Community involvement is the only way a project of this nature could be accomplished and to see those preliminary efforts come to fruition with the initial construction phases is heartfelt to many involved in the process. "This is just the beginning, but it is the beginning," Wakefield Community Schools superintendent Matt Farup said. "We have a lot of work to go but it is great to get started." Farup indicated the preliminary work being done is on what will become the stadium portion of the project. "We wanted to try to get the footings poured for the stadium and all that encompasses," Farup said. "It is a relief to get that done before winter sets in." Milo Meyer Construction Company of Wayne found a lull in its schedule and showed up to begin some dirt work. "The company doing the project allows us to sub-contract local companies for the some of the work," Farup said. "That was part of the attraction of the company we chose and we wanted local plumbers, electricians, cement contractors and dirt contractors to participate in the construction - it gives everyone more ownership in what we are doing." The bulk of the existing $3.78M project has been funded, but Farup indicated some of the amenities surrounding the complex would require additional fundraising or dollars. "Some of the landscaping and extra things we are still looking for dollars," Farup said. "The stadium, lights, concession stand and turf are included in what was considered by the board." The Wakefield Community Schools Board of Education will most likely vote on approval of the final contract for the construction of the stadium, lights and turf at its next meeting but the preliminary work is underway. A formal "ground-breaking" ceremony has been set for November 23 at 4:00 p.m. at the site, but in the interim, the pre-grading and footings portion of the construction will continue as weather permits. Fundraising is ongoing for some of the amenities and landscaping surrounding the complex including the purchasing of individual bricks for a walkway leading into the stadium or buying a spot on a donor board which will be displayed ay an entrance or near the stadium itself. Farup also stated a new campaign will be kicked-off around the ground breaking. "We are going to unveil a 'Become a Trojan' campaign around the time of the ground breaking," Farup said. "Just contact me at the school if you're interested in donating." Although the beginning of the construction is without a lot of pomp and circumstance at the moment, Farup is glad to see the beginning. "This has been a long arduous process," he said. "In the end it will be something the school and this community can be extremely proud of."

The Wakefield Senior Center will be hosting a soup fundraiser on Sunday, October 31 from 11:00 a.m. to 1:00 p.m. at the Wakefield Community Center. A free will donation will be requested and the proceeds will go entirely to the Center.

Wakefield Teammates chapter looking for mentors After a year of COVID which saw Teammates mentors and mentees meting only via Zoom or limited contact, the Wakefield Chapter of Teammates is set to match up people to help students through the trials of life and the school. "It's a very rewarding experience to get to spend time with these kids," Teammates co-sponsor, Mike Clay said. "A lot of our mentors go into the program thinking they are going to help a young kid and by the end of the year, the mentor got more out of it than the mentee." Clay and Timarie Hansen are running the Wakefield chapter and are looking forward to matching students with mentors for this school year. "We got some things done last year, but COVID really hampered what we could do," Clay said. "Meeting face-to-face is very helpful and I think everyone would agree - close and personal is always better." To become a Teammates mentor, contact Timarie Hansen or Mike Clay at Wakefield Community Schools.