Brock Hansen earns youth wrestling state championship By Jon Burleson Wakefield's own Brock Hansen earned a state wrestling championship at the 2023 NEUSA PK-8 Boys/Girls Wrestling Tournament held in Grand Island March 17-19. He completed his season with a perfect 25-0 record. Wrestlers from Wakefield competed in the tournament as part of the Wayne Youth Wrestling program. Levi Pofahl is the head coach and organizer for the wrestling organization. He said Brock went 5-0 in the second grade class in the tournament. "The tournament is tough," Pofahl said. "You have clubs from towns like Wayne wrestling against big city clubs like from Omaha." Brock's brother, Saul, wrestled in the fourth grade class at Grand Island. He dropped his opening match, but fought his way back and made it to the last bracket – known as the "heart-break" bracket. He was eliminated just one match away from medaling ending the tournament at 3-2. "He showed a lot of determination after his first-match loss," the coach said. This was the first year the Hansen brothers wrestled as part of the Wayne club. Prior to that they had been with the Wakefield youth wrestling club. Pofahl said he was proud to watch their talents develop over the last year. "They were skilled coming in," he said. "But, both of them showed an impressive amount of growth over the season." The youth wrestling season runs from January through the middle of March. Next season, should the Hansen brothers decide to participate, Brock will move up into the third and fourth grade class while Saul will compete in the fifth and sixth grade class, Pofahl said. The coach credits the outstanding support from parents, the organization's board members and the assistant coaches for providing the foundation for success the group has had. Youth wrestling is very family oriented," Pofahl said. "Even between the various clubs there is a family aspect to the competitions."

Wakefield Board of Education holds special meeting By Jon Burleson Republican Staff The Wakefield School Board held a special meeting Tuesday, March 21, to discuss several items including a proposal to use the Construction Manager at Risk contract delivery system, establish a CMAR Selection Committee and to authorize the administration to create a Notice of Request for Proposals in accordance with Nebraska State Law. The board voted unanimously (with the exception of Jim Litchfield who was absent) to adopt a resolution that sets into motion procedures which will allow the administration to move forward with efforts to explore the costs that would be involved in expanding/increasing Wakefield Community Schools' buildings. "We need more room," said Superintendent Matt Farup. By implementing the CMAR contract delivery system, the school streamlines the process of selecting a Construction Manager and getting a Guaranteed Maximum Price. The GMP contractually obligates the CM to deliver the project in accordance with the plans and alleviates the school from having to foot the bill should the project go over budget. Prior to selecting a CM, the members of the CMAR Selection Committee will define the parameters of the project including a preliminary budget constraints. Three members of the committee will be board members. Included among the others will be three people with experience hiring construction companies, Farup said. "They will review everything pre-bond proposal and pre-construction services," he said. "That way we aren't obligated if financing doesn't materialize." Also involved in the process and acting as municipal advisor will be Tobin Buchanan, vice president of public finance for First National Capital Markets. Farup said FNCM has been good to work with in the past. Board member Eric Riewer agreed and said he believed taking these steps were the "right way to go" and (in regards to FNCM) it was reassuring to know someone had the school's back. In other business before the board at the special meeting: - Voted to accept the resignation of preschool-to-sixth grade choir teacher Deb Nicholson. Farup said she was headed to her next career watching multiple grandchildren; - Voted to approve the employment contract of new fifth-through-12th grade instrumental teacher Jennifer Trenhaile. Farup said with the departure of Esly Ovando, who taught both band and choir, the administration had decided to divide the classes between two instructors. - Voted to adopt the PowerSchool Documentation Server for filing paperwork. Previously, the board had voted to implement this service, but never followed-up. This unintentionally saved the school $5,000 according to Farup. This will also facilitate enrollment and re-enrollment; and - Approved a bid from Riverside Technologies, Inc., of North Sioux City, South Dakota, to provide a security system for the school's external doors. According to Farup, they will also install a "big red panic button" that will send an alert straight to local law enforcement if activated.

Eric and Traci Riewer, of Riewer Properties, would like to show the Wakefield community the transformation that has occurred in the last 2 years in the old hatchery buildings. They ask for the community to join them at an open house on Wednesday, March 29th from 5:00 p.m. until 7:00 p.m. Community members coming to the open house can access the apartments through the north door on 3rd St, the door will be marked. There are stairs so keep that in mind when visiting. "We hope to have another open house for the first floor soon so watch for that" said Traci Riewer. "Thank you for coming out to see this little bit of Wakefield history restored!"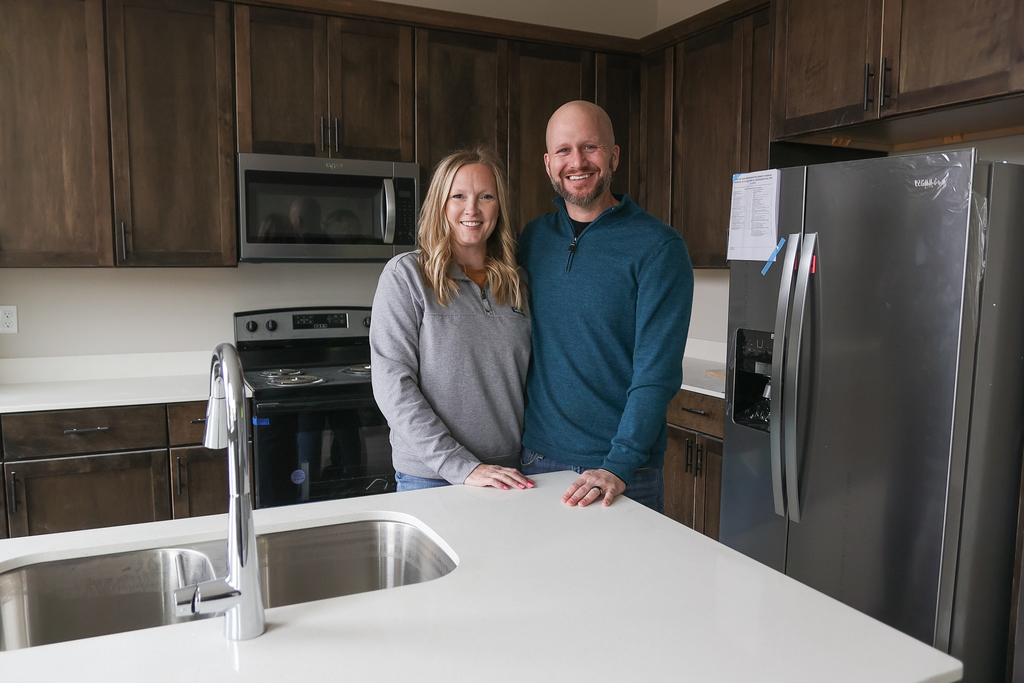 Academic All-State selections announced Selections for the Nebraska Chiropractic Physicians Association Academic All-State award for the 2022-2023 winter sports season have been announced. In order to be selected for the award a player needs to be on the varsity team or be an organizational leader as well as have a cumulative grade point average in all curricular subjects of at least 3.7. Pictured with their certificates are the selections for Wakefield Community Schools in the front row (l to r:) Sam Chase, wrestling; Ashlyn Vazquez Catalan, speech; Katie Borg, girls basketball; Jordan Metzler, girls basketball. Back row (l to r): Kolton Fischer, wrestling; Jackson Pommer, speech; Cade Johnson, boys basketball; Ryan Anderson, boys basketball.

The Play That Goes Wrong going well... The Little Red Hen Theatre production of The Play That Goes Wrong by Henry Lewis is well into rehearsals ahead of the shows run starting on March 17 and 18 at 7:00 PM and March 19 at 2:00 PM. Tickets are $10 for adults and $8 for seniors and students. Tickets can be purchased online at
www.littleredhentheatre.com
, or by calling the theatre directly at (402) 287-2818.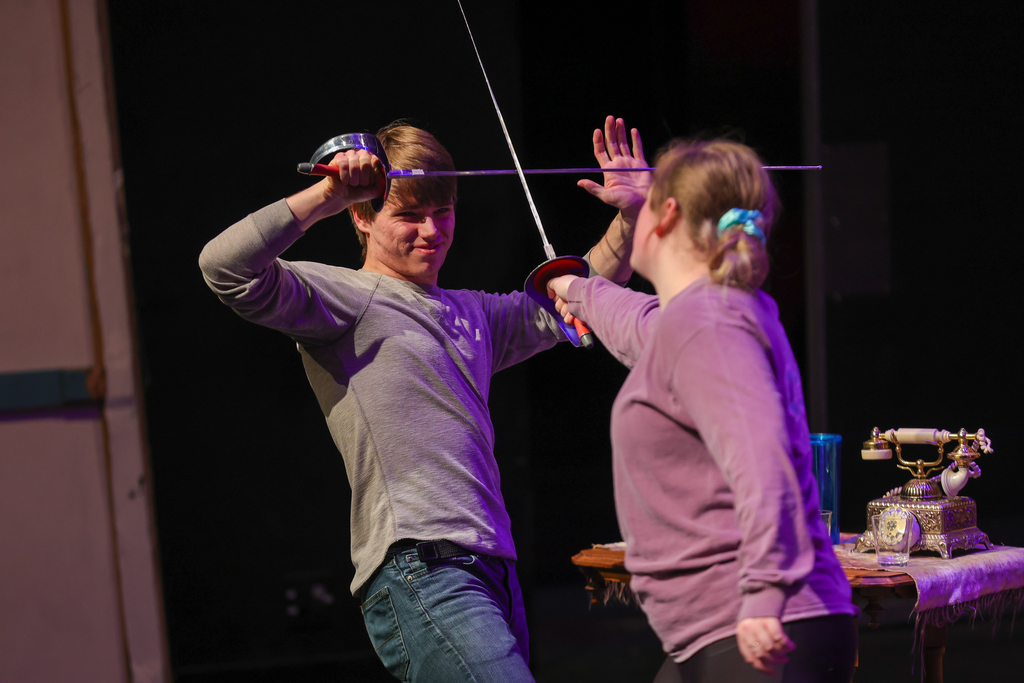 This is a cancellation of the Endangered Missing Advisory issued by Nebraska Law Enforcement The Endangered Missing Advisory activated to determine the whereabouts of Gary QUAST, has been cancelled. The alert has been cancelled due to Found Safe This advisory was for the following State Patrol Troop Areas: Troop A, Troop B, Troop C, Troop D, Troop H. For more information visit our website at 
http://nsp.ne.gov/ema

An Endangered Missing Advisory has been activated to determine the whereabouts of Gary QUAST. An Endangered Missing Advisory has been issued for Eastern Nebraska. The Fremont Police Department is attempting to locate, Gary QUAST who is a 81 year old, white male approximately 5' 9"
https://services.nebraska.gov/PublicWeb/api/emaalert/image1/89
tall, approximately 155 pounds, with white hair, blue eyes and blue jeans, snap button shirt, camouflage hat. QUAST is missing from the 300 block of North Birchwood Drive in Fremont, Nebraska, and last seen at 11:00 am on March 3, 2023. QUAST is driving a Red 2014 Hyundai Sonata (NE plate 19438). QUAST has dementia. If you have any information, please call 911, or contact the Fremont Police Department at (402) 727-2677 or 911 immediately.

Trojans fall to Tri County in sub district final The Wakefield Trojans traveled near three hours south to DeWitt, southwest of Lincoln, for the Class C2-6 District Final against the Tri-County Trojans, with Wakefield falling in their State tournament run, 60-47 at the final buzzer. Wakefield trailed the home team, 16-12, at the end of the first quarter, and had the game within three at the halftime break, 26-23. The third quarter ended with the Wakefield boys within five, 38-33, but in the fourth the home team rallied, adding 12 points before the Wakefield team scored, 50-39 with minutes left. The Tri-County team guarded and carried the ball for the final few minutes, giving up just eight more points to Wakefield before the end of regulation, and the Wakefield boys ended their post-season in play, 60-47. Vs. Wisner-Pilger The Wakefield Trojan boys' basketball team hosted Wisner-Pilger on Thursday, Feb. 23 in the team's second round of the sub-district to win entry to the C2 District Final. The Trojans defeated the Gators 64-48 after four quarters, pushing the team into the District Finals game against Tri-County's Trojans near DeWitt, southwest of Lincoln on Monday, Feb. 28. Against Winser-Pilger, the Trojans came out 15-5 in the first quarter, and added another 10 in the second to control the game, 25-21, in the first half. In the third period the Trojans added another 10 to their spread, 21-11, and with an 18-16 fourth quarter, the Trojans tied up the game 64-48 at the final buzzer. The Wakefield boys made 62% from the field – 14/22 in field goals, and 6/15 from outside the big line with 18/28 free throws. Scoring for the Trojans were Cade Johnson with a big 25-point game to lead his team offensively on 8/12 field goals and hitting 9/13 from the free throw line. Following up was Eliseo Sarmiento with 16 points; Hunter Schultz had 10; Cael Johnson had nine; Ryan Anderson had three and Johnathan Birkley was credited with one. Cade Johnson added 12 rebounds for a double-double on the defensive side of the ball as well. Cael Johnson marked five, Hunter Schultz had four, Ryan Anderson had two and Eliseo Sarmiento was credited with one. More pictures from the District Final can be found on page 5 of this edition of the Republican.

WakeFIELD Party lineup has three country singers The 2023 WakeFIELD Party planners have announced the musical talent that will be performing at the June show. Three country music acts are lined up – and all can be found through online streaming services like Youtube or Spotify, to hear their music. Most recently announced was Josh Kiser, country singer/songwriter, with two recently released singles "Big on the Little Things" and "Whiskey Wins" – which can be found on his streaming platforms as well. The WakeFIELD Party has been planned for Saturday, June 3 at Graves Park, and tickets can be purchased online anytime at
www.thewakefieldparty.com
. So far on the lineup are: Baker Grissom, country singer-songwriter After a couple million streams of his first few releases – "Sunday," "Workin' Man," and "Drink for That" -- Grissom has brought in Grammy Award-winning producer Ben Fowler (Eric Clapton, Rascal Flatts, Maddie & Tae, Kelsea Ballerini, Jameson Rodgers, Kris Kristofferson, Lynyrd Skynyrd) to cut his sophomore project, due out later this year. They're currently in the studio putting the finishing touches on his upcoming release "Her on Out." Isaac Cole, country singer In his 21 years, Isaac has recorded five CD's ("Country Boy" 2011, "Just a Kid" 2013, "I'm Your Huckleberry" 2016, "Cole for Your Stocking" 2019, and "The Fifth" 2021) and two singles "Everyday Livin'", and "Too Nice". Isaac is also a proud member of the legendary Wheeling Jamboree. He was inducted in 2016 as the second youngest solo artist ever to be inducted, behind Brad Paisley! His largest stage was appearing on the January 2016 season XV of American Idol on FOX, where he made it all the way through Hollywood week, and ended up in the top 51 after the Showcase Round. Josh Kiser, country singer-songwriter Cleveland, Tennessee is bursting with pride since hometown boy Josh Kiser has become the newest rising artist/writer in Nashville's country music scene. Kiser found his sweet spot by blending traditional 90's sounds with a touch of rock & soul to his production to create a sound that resonates well with longtime country fans, as well as newer listeners who most call "Kiser Kountry". He moved to Nashville in 2019 to pursue his music career. After moving to Nashville, he quickly signed a publishing deal with Liz Rose Music and Warner Chappell Music. Kiser draws his influences from artists like: Travis Tritt, The Eagles, George Straight, Ray Charles and Hank Williams Jr.

Murder at the Wakefield Civic Center! Pictures here!
https://paperandink.smugmug.com/Wakefield-Republican/LRHT-Totally-Rad-80s-Prom-2023/
A murder took place at the Wakefield Civic Center on Valentine's Day, thanks to The Little Red Hen Theatre. The part show, prom, and catered evening "Totally Rad 80's Prom Gone Bad" was performed at the Wakefield Civic Center to an extensive crowd. The event is a fundraiser for the Little Red Hen Theatre that helps pay for the cost of all the shows and events put on throughout the year. In addition to a catered evening and available cash bar, those present had a mystery to solve as a group under the direction of T. Adam Goos acted out a murder at a high school prom, approximately called Mayhem Highschool. This was done through both interacting with the performers as well as their interactions and clues given throughout the evening. More pictures from the show can be found on page 5 of this edition of the Wakefield Republican.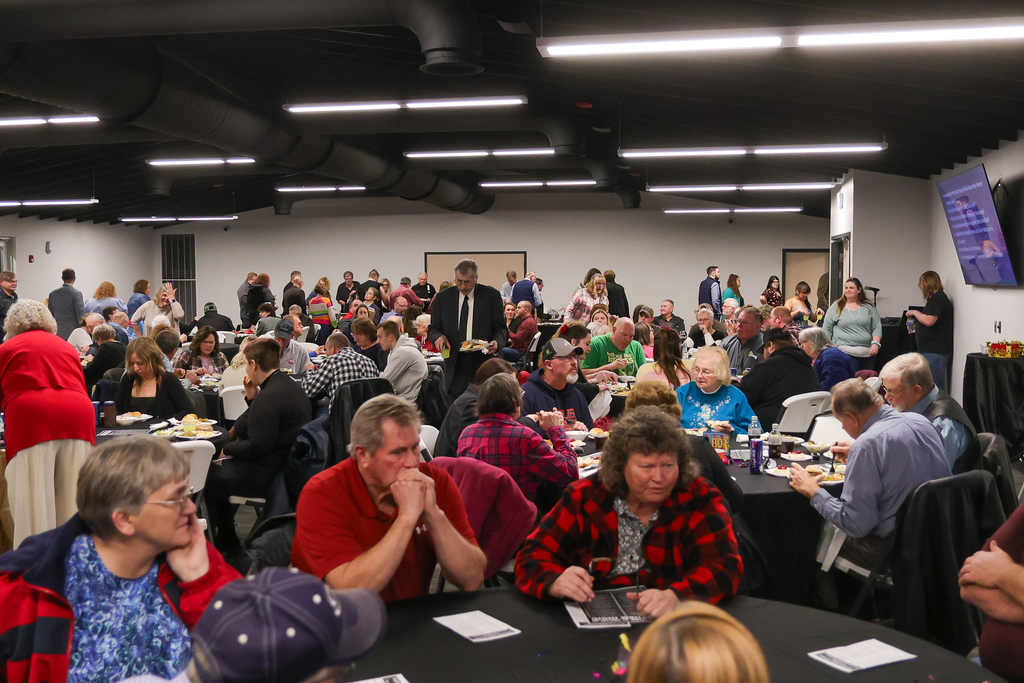 Wakefield senior Alex Arenas celebrated a career milestone with her Lady Alex Arenas hits career milestone 1000th point vs LCC! Trojans teammates during their big when over Lutheran High Northeast on Friday night. During the game Arenas made her 1000th career point. In the picture above she can be seen with her teammates back row (l to r): Sierra Kaufman, MaKenna Decker, Laken Rahn, Katie Borg, and Daveigh Munter-McAfee. Front row (l to r): Madison Borg, Jordan Metzler, Alex Arenas, Ashlyn Riewer, and Gracyn Keagle.

Legion Auxiliary President views Eagle Scout project On Thursday morning, January 26, 2023, American Legion Auxiliary National President Vickie Koutz and Nebraska ALA Department President Vicki Ozenbaugh met with members of ALA Unit #81 and a few others at the POW/MIA Memorial Chair at Wakefield's Eaton Field. This location was chosen because Madam National President Koutz wants to raise awareness on an issue close to her heart - our country's Prisoners of War (POW) and Missing in Action (MIA). Koutz's husband returned to Vietnam to help dig for remains many years after serving overseas. Since then, he constantly wears a POW bracelet. "Listening to him talking about his experiences made me realize how important it still is today," she said. Since the POW/MIA Memorial Chair was Jack Schlickbernd's Eagle Scout Project, he and his dad were also present to visit with the dignitaries. Jack is a member of Scout Troop 174 and a student at Wakefield Community School. On her two-day Nebraska tour, Koutz traveled the Nebraska Medal of Honor Highway (Highway 20) and made stops at various Nebraska Veterans Memorials before flying to North Dakota for the same purpose.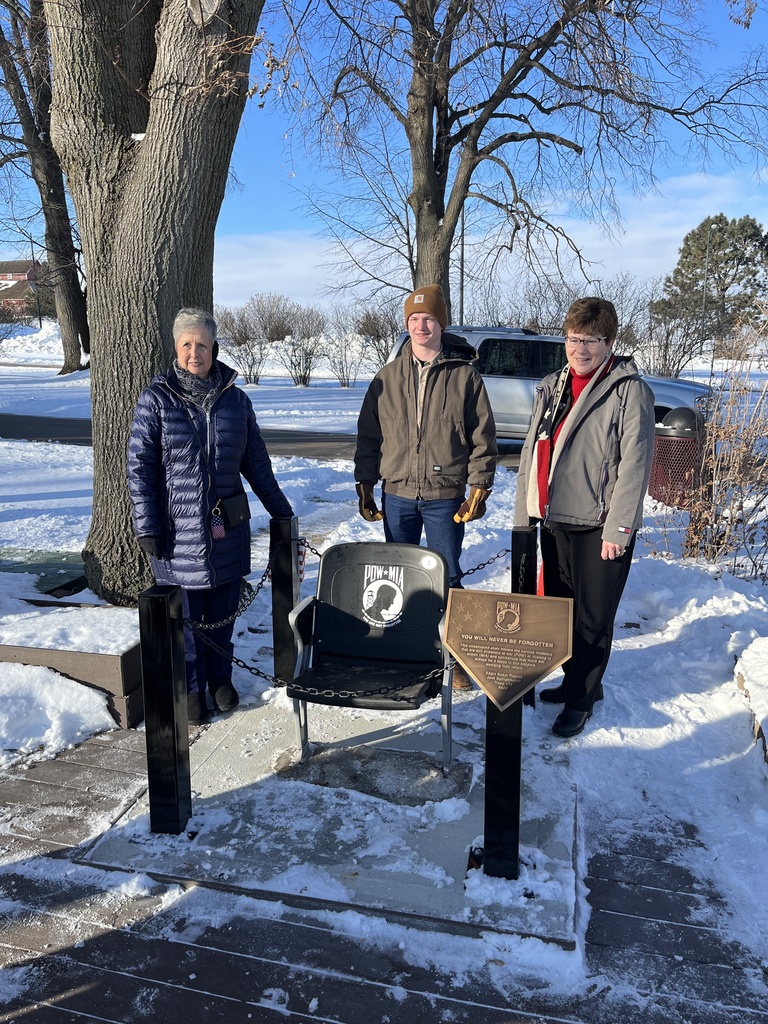 Mirella Ruvalcaba wins Dixon County Spelling Bee! The Dixon County Spelling Bee was held on Tuesday, January 24th at Allen Consolidated Schools in Dixon. Students from County schools vied for a chance to compete in the Regional Spelling Bee in Omaha in March. This year Wakefield Community Schools own Mirella Ruvalcaba won the first place trophy over Abrahm Krusemark of Ponca who took second and Kaylee Kloster from Ponca who was last year's winner that came in third.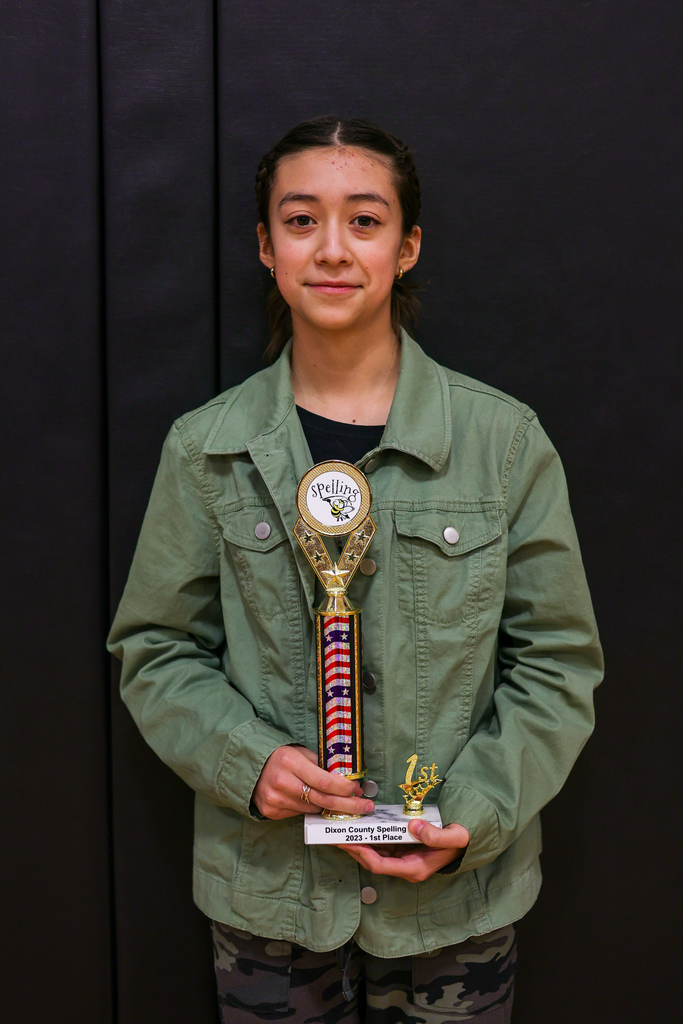 Local scout being honored with Eagle Scout award Jack Schlickbernd has earned the Boy Scouts of America's highest advancement award, the Eagle Scout Award. He passed his Board of Review on August 2, 2022. Schlickbernd will be recognized in a ceremony on Sunday, January 8, 2023. A member of Troop 174, Schlickbernd is one of only approximately six percent of all Scouts who attain the Eagle rank. He is the 150th scout from Wayne to earn the rank of Eagle. Each candidate must earn 21 merit badges and successfully complete a community service project to earn his Eagle. For his service project, Schlickbernd chose to install a POW/MIA Seat of Honor and other major league stadium seats at Eaton Baseball Field in Wakefield, Nebraska. Through scouting, Schlickbernd has gone to Florida National High Adventure Sea Base and became SCUBA certified while attending Camp Wilderness in Minnesota. He earned religious awards as both a Cub Scout and a Boy Scout. Schlickbernd is a member of Journey Christian Church and is active in football, Skills USA, track, and baseball at Wakefield Community Schools where he is a junior. He is the son of Mike and Sara Schlickbernd of Wayne.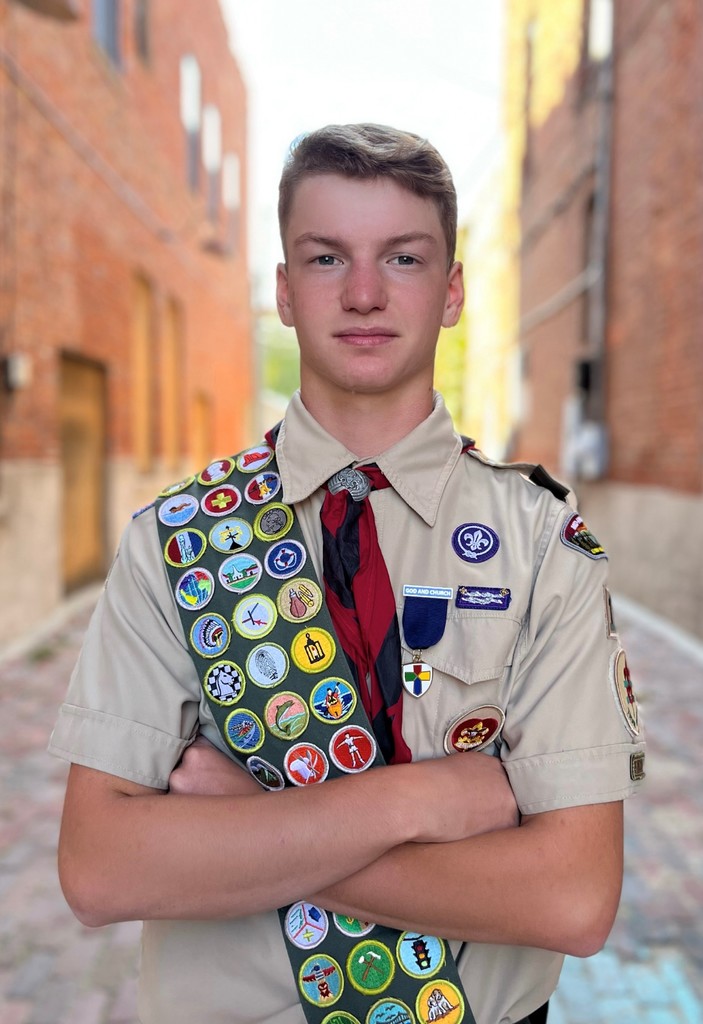 A special event, hosted by some local producers, will be held in Wakefield this weekend, Saturday, Jan. 7 – a special concert event honoring the local fire departments in Northeast Nebraska. The event will be held at the Wakefield Legion Hall, with doors opening at 6 p.m., and music starting at 7:30 p.m. There will be an admission charge at the door, but firefighters and spouses will get in free. All proceeds from the evening will be divided up and given to the local fire departments. A release from the event said that some local producers had joined together to host the event in recognition and appreciation for the service that local firefighters, and their families, have provided to the communities they serve. Music will be provided by Nashville, and local performer, Angie K. She has performed in Northeast Nebraska in 2021 and 2022. She has played at Wake"FIELD" Party in 2021 and 2022 and at the Dixon County Fair last year. Angie K. has a music video for the song "Country is as Country Does" recorded and filmed in northeast Nebraska in 2021. The video was filmed in the Newcastle, Allen, Wakefield, Wayne, and Pender area. For more information about Angie K. go to
www.officialangiek.com

Gabe Peitz earned NSIC Elite 18 Award for cross country (Sorry for the typo in the paper Gabe!) Gabe Peitz of Wayne State College was announced as the recipient of the Elite 18 Award at the conclusion of Saturday's Northern Sun Conference Men's Cross Country Championships held at the Wayne Country Club. The NSIC Elite 18 Award is presented to the student athlete with the highest cumulative grade point average participating at the finals site for each of the NSIC's 18 Championships and Peitz is the first Wayne State men's cross country runner to earn the award. Peitz, a junior from Wakefield, maintains a 4.00 grade point average majoring in pre-med and chemistry. This season, Peitz has competed in all six meets for the Wildcats this season. He has a season-best finish of 21st at the Wildcat Classic and recorded a personal best time of 27:37.8 in the 8K at the Defender Holiday Inn Express Classic at Dordt University on October 8, 2022. Peitz ran a time of 29:14.20 to finish 107th at Saturday's NSIC Cross Country Championships in Wayne. Peitz is also in his second year serving on the Student Athlete Advisory Committee at Wayne State College.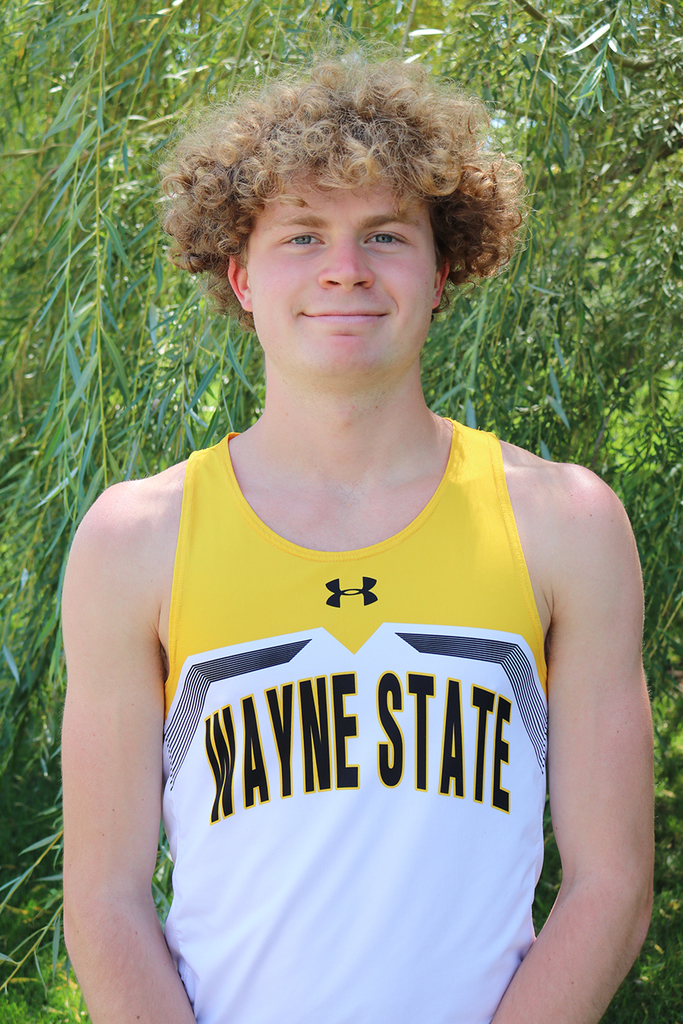 Tacos Valenzuela opens on Main Street! By: Roxy Ekberg Republican Staff Tacos Valenzuela opened on Monday, October 25th. Located at 225 Main Street, and the restaurant has food available to dine-in or take-out. "Everyone seems to love the authentic food so I decided to do this for the people so they can enjoy yummy food here in town," said owner Brenda Valenzuela. Hours are Tuesday through Thursday from 11 a.m. to 8 p.m. and serves breakfast only from 6-11 a.m. on the weekends. At the moment, the store is only able to accept cash and venmo. The restaurant started as a side hustle for Valenzuela. Tacos Valenzuela began by serving food at the Wakefield Markets and quickly expanded. She used the profits to help her mom receive dialysis treatment three times a week. "I am forever grateful for my supporters," said Valenzuela. Valenzuela's goals are to be successful and provide good food to the public. She continues to help her mom and involves her family in the business. "Always remember to support small businesses," said Venezuela.

Mikkie Mogus sings at Muskateers game Recently Wakefield Community Schools student Mikkie Mogus was given a chance to show off her singing talent at a Sioux City Muskateers ice hockey game. On Saturday, October 22nd prior to the game versus the Sioux Falls Stampede Mogus sang the national anthem before the large crowd at the Tyson Events Center. The game was also the Musketeers 14th annual 'Pink in the Rink', an event to raise awareness of breast cancer. In addition to the ice being colored pink the team also wore special pink jerseys that was auction off after the game. Mogus will be returning to event's center to sing multiple times in the near future on November 3rd, January 6th, February 5th, and March 5th.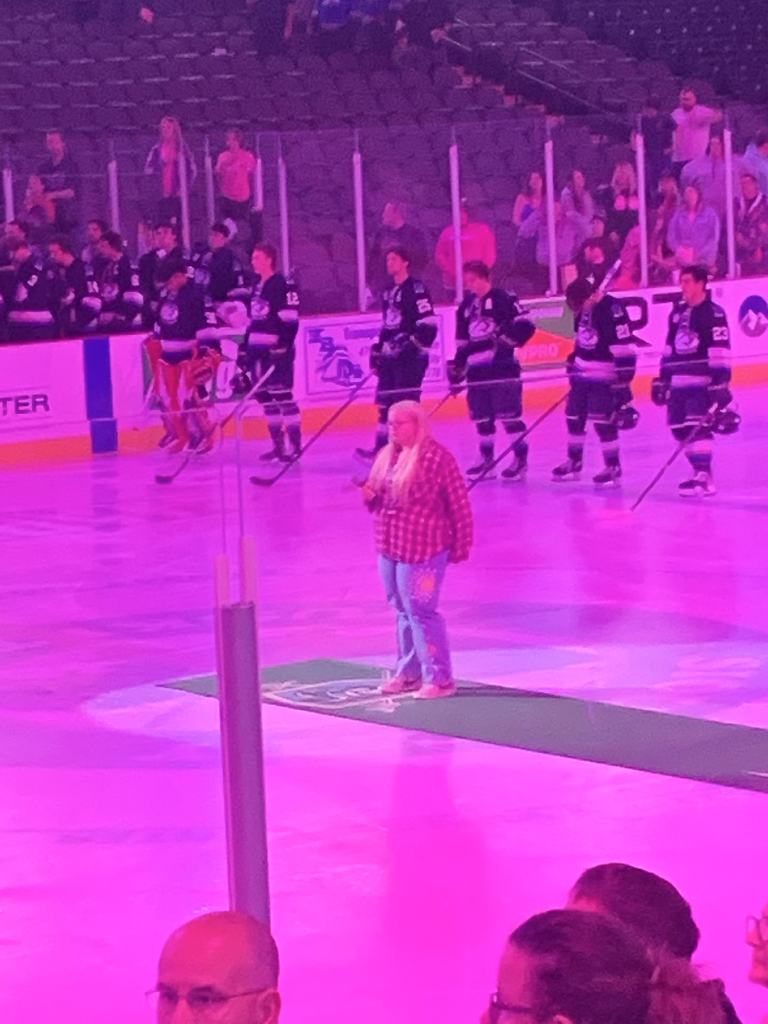 By Roxy Ekberg Republican Staff Wakefield Volunteer Fire Department responded to multiple fires across the area on Wednesday evening into Thursday morning. The first fire started on 854th Rd near Kevin Kai's farm and then spread five miles south and two miles east to the old Lloyd Hugelman farm. The fire was presumably started by a combine. Assistant Fire Chief, Kevin Wiltman, stated that the high rate of winds and significant lack of moisture helped the flames spread. Once the field was put out, the team noticed the fire had traveled to a nearby grove. Mutual aid was called in from neighboring fire departments with Winnebago, Pender, Emerson, Thurston, and Laurel coming out to help. Responders from Pender and Emerson were forced to leave and deal with their own fires, Thurston did as well but returned later. Additional support came from local businesses, neighbors, and farmers. Wakefield's Central Valley Ag along with Nutria Ag Solutions from Thurston and a private farmer aided by keeping the tankers full of water. Four farmers helped control the flames with their discs. "They were a significant help in reducing response time…we would have been there all night," said Wiltman, who was in charge at the scene. "When it came to putting out the grove, all the mutual aid was a huge help." Once they returned to town they were called back out first for a mutual aid call near Allen but were told it was quickly under control, then they headed to a large field fire near Laurel, then finally diverted back to a fire six miles south of Wakefield. The high wind caused the fire to travel 3 or 4 miles while potentially putting three houses at risk, however, the WVFD reported no structural damage after the fire was under control. One firefighter was taken to Providence Medical Center under suspicion of smoke inhalation, he was released later that night and returned home. Personnel at the fire included Scott Wageman, Kevin Wiltman, Nick Ekberg, James Felt, Lyle Ekberg, Jake Rahn, Larry Soderberg, Nick Gonzalez, Ken Rahn, Andy Vasquez, Devin Anderson, Theresa Soderberg, Sophia Sebade, Shelia Brown, and Riley Ekberg. The Wakefield Volunteer Fire Department has been exceptionally busy over the last six weeks. From September to October 15th they responded to 13 fires, 14 rescues, and two mutual aid situations, according to the Dixon County Sheriff's report.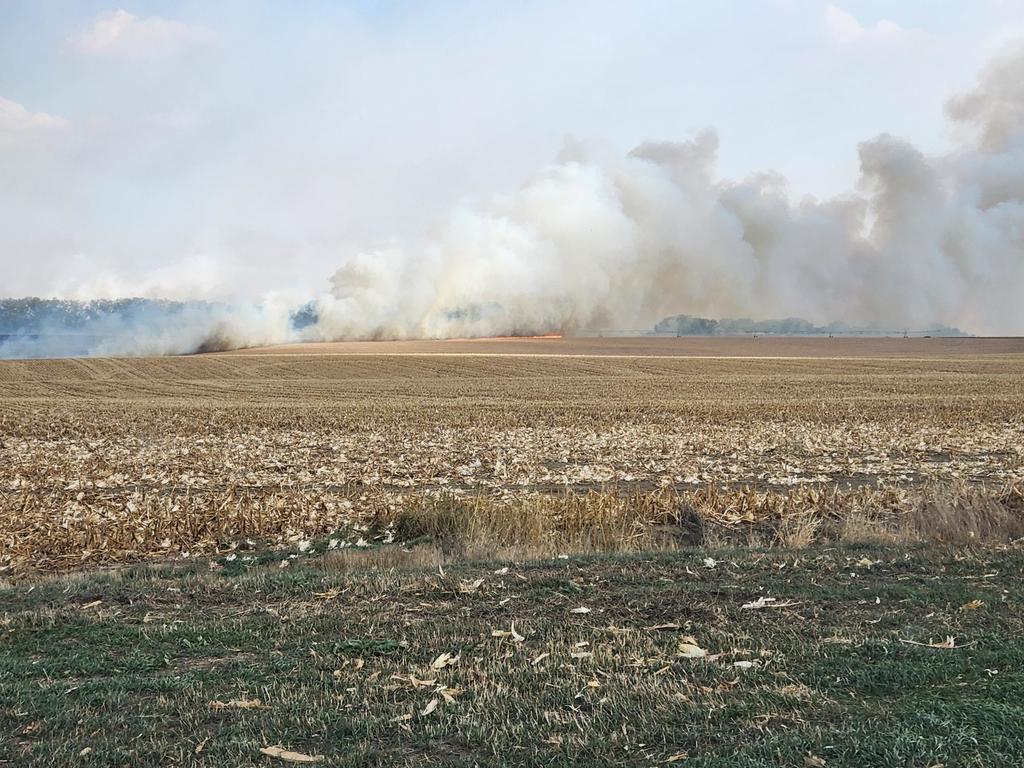 At the 25 September 2022 Nebraska State Sons of the American Revolution (SAR) Fall State meeting at Mahoney State Park, Kenneth Paulson of Wakefield, was recognized as a 30 year member of the State and National Society in a ceremony by the Nebraska State Society President Thomas Upton. Mr. Paulson is a verified descendent of his ancestor Pvt. Andrew McPherren born 1755 and died 1829. The patriot, Pvt. McPherren, spent seven years in the American Revolutionary War (for the duration) in the Pennsylvania Line and is buried in Sinking Valley Cemetery, Arch Spring, Blair County, Pennsylvania.